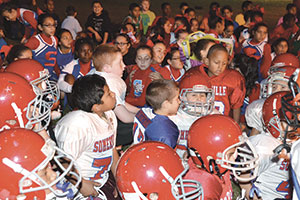 All Families are welcome to our registration for the 2017 season on Wednesday, April 5, 6:00 – 8:00 p.m. at Stop & Shop Community Room, 2nd Fl., 799 McGrath Highway.
This is SPW's 54th season and they are excited to get the season started. All boys and girls ages 5 (by July 31) – 15 are welcome. All children are safely placed on teams by age and weight. All SPW Coaches are heads-up certified through USA Football. New England and PWFC of Eastern MA. All Coaches and Staff are CORI checked. A PSC (player safety coach) and EMT is always present.
The season starts August 1 and plays until November.
SPW is proud to be one of the stronger programs in Eastern MA and takes pride in all the accomplishments the organization has brought to the city. Your child will not only learn the sports of football and cheer but they will have fun and make many lifetime memories and friends.
All are welcome, come join the VILLEN family and have a great time. No child is turned away from this program.
For questions, please call Roger Desrochers at 617-838-2145 or email rogspw@aol.com, Somerville Pop Warner-face book.