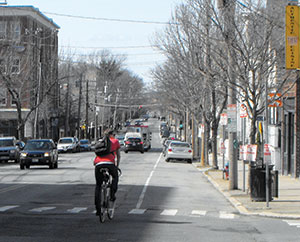 Beacon Street is one of the most heavily utilized bicycle corridors in the State.
Due to ongoing construction on Beacon St., the Massachusetts Department of Transportation, City of Somerville, and project contractors have determined that it is in the interest of public safety to CLOSE the protected bike lane, between Oxford St. and Washington St., for the 2017 construction season, beginning on Monday, March 20. 
During the construction season, we strongly recommend that bicyclists utilize the detour routes which were put into place in 2016, available at www.somervillema.gov/beaconstreet, or:
 ·       www.somervillema.gov/sites/default/files/beacon-st-porter-to-inman-map.pdf
·       www.somervillema.gov/sites/default/files/beacon-st-inman-to-porter-map.jpg
While the use of the full travel lane is an option that some bicyclists may choose, please be advised that temporary, unexpected lane shifts may be in place throughout the course of the 2017 construction season, and that while construction is ongoing travel lanes may be narrow. When complete, the protected bicycle lane will provide the safest and most efficient route, however as it is not yet in its final condition it is not safe for travel during the construction season. Again, we strongly recommend using the detours posted above.
 If you have questions or concerns, please visit www.somervillema.gov/beaconstreet for more information, or to contact a member of the project team.
3 Responses to "Beacon Street Protected Bicycle Lane to Close for 2017 Construction Season"