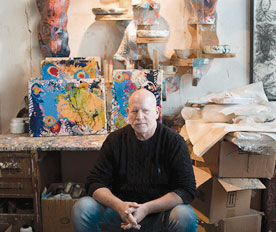 Lesley University announces an immersive exhibition of sculpture, painting, ceramics, architectural elements, textiles and mixed media by Somerville artist Mark Cooper that will envelop the Lunder Arts Center Roberts Gallery from March 18 to April 16.
The artist will create an immersive experience for visitors in the gallery, located at 1801 Massachusetts Ave., Porter Square, Cambridge.
In this site-specific installation, titled Uncertainty, Cooper will use diverse materials to explore language and visual culture on multiple levels, addressing the idea of the collection, collecting, value, and methods of presentation. Cooper references subject matter that draws on eastern and western traditions and ranges from architecture and construction, to cell biology and street life.
"Each component of the exhibit is intended to be in conversation with the others, serving as visual signifiers and catalysts for viewers to find meaning," says Cooper.
Through collage and assemblage, the installation will invite viewers to discover unexpected connections that bring new meaning to each component. Organic and biomorphic forms and images repeat and resonate with one another, created out of diverse materials such as wood, ceramic, rice-paper and fiberglass.
"The installation of these objects together promotes the concept that the whole is more powerful than the sum of its parts," says Cooper. "When viewers are presented with the opportunity to make connections between objects, it becomes a metaphor for making connections between cultures."
According to Lesley University Director of Exhibitions Bonnell Robinson, "Mark's work couldn't be more timely and we are delighted to have 'Uncertainty' as our first major site-specific work at the Lunder Arts Center."
The installation will become a collaborative process involving students and curatorial staff at Lesley's College of Art and Design.
A reception will be held at the gallery on Thursday, March 30, from 6 to 8 p.m.