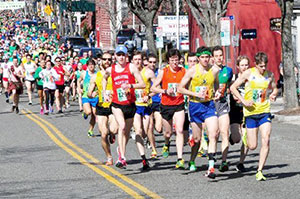 Ras na hEireann is the most genuine Irish race this side of the Atlantic. It is a celebration of traditions dating back centuries – and simply a celebration of spring in Somerville, MA.
All runners and walkers are invited to celebrate life, the coming of spring, and to enjoy a memorable race and St. Patrick's Day celebration. This race was born in Ireland and named in honor of its famous sister race, the Ras na hEireann International Cross Country held in Termonfechin, County Louth, Republic of Ireland. The Ras na hEireann U.S.A. 5Km is open to all, from beginners to international stars.
The U.S.A. race will be held on Sunday, March 19 starting at 11:00 a.m., beginning and ending in Davis Square. There will be loads of Craic – a celebration and appreciation of heritage and history, the magic and mystery that move everyone to be Irish on St. Patrick's Day. Yes, a St. Patrick's Day Celebration on the run.
Cash Prizes will be offered for the top six women and top six men, with an additional bonus of $100 if either winner is a native of Ireland. The total cash prize package is $2,350. Plus, a $500 cash prize offered for setting a new course record, Currently held by Molly Huddle 15:59 – Women 2010 and Mark Kenneally 14:19 – Men  2006.
For more information visit  http://www.baevents.com/rasnaheireann/.