*
Although the orange season runs from November through the spring, February through April are the peak months for navel oranges in the United States. During this time period is when I shop for these particularly sweet, and juicy treats to make orange marmalade. I always pick up extra so I can make one of my favorite salads. I hope you enjoy this as much as I do. This is a vegetarian/vegan dish. Serves 3-4 people.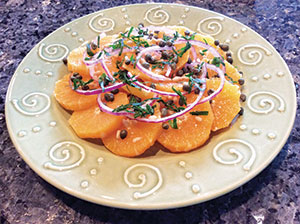 4 Medium Navel Oranges
1/8 Red Onion, sliced thin and soaked *see note below
2 Tablespoons Capers, rinsed and drained
2 Tablespoons Pignoli Nuts aka Pine Nuts
1-1/2 Tablespoons Olive Oil
Pinch Sea Salt or Kosher Salt
2 Tablespoons Parsley, finely chopped
Thinly slice 1/8 of a red onion and soak them in iced water for at least 10 minutes to take the bite out of them. Remove from the iced water and drain in a paper towel. Rinse off the oranges. Cut off the top and bottom of the oranges. With a sharp knife, starting at the top of the orange, cut the peel and pith following the contour of the orange down to the bottom. Repeat until the orange is completely peeled. If there is any of the pith left, make sure it is trimmed off so that the fruit will not taste bitter. Once all 4 are peeled, slice the oranges into 1/4″ disks. You will get about 5 disks per orange. Arrange the orange slices onto a platter. Add the onions, capers, pignoli nuts, or any nut of your choice, on top of the arranged oranges. Drizzle with olive oil. Sprinkle the salt. Add the parsley over the platter. Serve right away, or put into the refrigerator until you're ready to serve.
Visit Dorothy's website at http://ddimarzo2002.wix.com/thymethief.