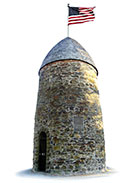 Just when we thought we might be safe from any further snow hassles for the season, along comes last week's belly-whopper that sent us out, clutching our shovels and wrenching our backs out of place.
Hopefully, the worst is behind us for the time being. At least it seems so for now.
Meantime, we can reflect on how it all went, and how we perhaps could make it go a bit better next time around.
City services seemed to be up to the task, although there are pockets where some folks complained that they weren't. A few residents felt that the snow plowing was sub-par, and in some cases not fully effective, leaving some blocked driveways and curbsides in their wake.
One would have to admit, though, that this endeavor is less of a science and more of an off the cuff type of an affair. No two storms – or snow plow operators – are quite alike. Like snowflakes themselves, each and every event such as this is unlike any other before it or yet to come. That's just nature's way.
We should come to an understanding about this and accept the imperfections in our systems and methods of operations. What is the alternative anyway?
That's not to say that we shouldn't seek out improvements whenever possible. Improvement is inevitable if we conscientiously apply ourselves.
Some things, though, are just so much bigger than we are. Individually and collectively. Bowing to the power of nature's occasional fury is not an acceptance of defeat, but rather an opportunity to embrace a bit of purifying humility for a change. Not a bad thing at that.
1 Response » to "Our View of the Times – February 15"