Setting the record straight

*
By Louise Carpenter
According to the band Unstraight's lead singer, manager, and Somerville resident Madeleine Ashley: "Unstraight formed through a blaze of social media and dyke marches and community. Their music, simultaneously introspective and ringing with clarity, beckons you to connect and wills you to ponder the tenuous nature of relationships and all that you want from life. Unstraight coaxes the wishes from your imagination, channeling them into instruments and amplifiers, pouring sound it into your ears until you're moving your body not knowing why."
The group recently released their first single, Show Me, which is available at unstraightmusic.com or or unstraight.bandcamp.com.
The 5-piece combo consists of Ashley on vocals, Katie Amaral on guitar, Courtney Petersen  on drums, Li Mei Yonekura on synth/backups, and Emma Brennan-Wydra on bass/backups.
As their press materials indicate, "Together they push the boundaries of alternative rock to the edges, with intertwining ribbons of electronic, punk, and garage. Unstraight plans to continue to make beautiful music infused with all the passion in their hearts. Look forward to spectacular music videos, stellar shows and tours, and incredible love melded into every note."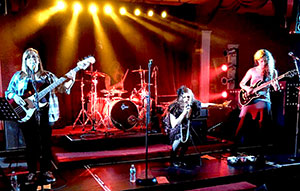 They further state, "Unstraight strongly believes in the greater presence of women, gender-nonconforming people, and LGBTQ people in music as there is currently a dearth, and our own all-queer, all-women members as well as many of the shows we put on exemplify and push forward this goal. Our annual BIG QUEER SHOW, scheduled for Saturday, June 3 at Thunder Road not only features queer people in music but also works with various GLBT community groups to table and run activities to spread more awareness about what they offer. We are smashing the barriers of the often-heard 'you were really good for girls' toward actual equality and a world where we are remarkable for our music and passion and not for the novelty of having women or queers onstage. At our shows, we welcome all who welcome all."
Unstraight will be performing at Out of the Blue Gallery, 541 Massachusetts Ave., Cambridge, on Friday, February 17. Tickets are $10 and are available for cash purchase at the door.