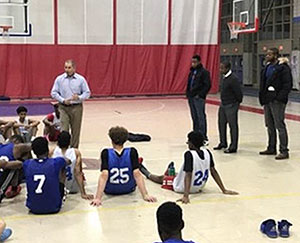 On Wednesday January 11, the Somerville Boys Basketball program got a surprise visit after practice from former SHS Head Coach Rich Melillo (SHS '72) and former players: Vladimir Benoit (SHS '02), Jocelyn Velney (SHS '02), and Ronelson Lovaincy (SHS '04). The alumni delivered a heartfelt and powerful message about community, life lessons, and achievement.
Vladimir Benoit, a Fitchburg State Graduate and Retirement Consultant at Empower Retirement Services, spoke in depth about growing up with family that suffered from mental illness and relying on positive mentors in the community.
Jocelyn Velney, Somerville Firefighter, told his story of being the last basketball player picked freshmen year to team MVP and Greater Boston League All-Star as a senior, and how hard work transformed him on and off the court.
Ronelson Lovaincy, a Western New England College graduate and Product Manager at New Balance, talked to the team about his struggles academically freshmen year and how he was able to achieve his goals on and off the court by dedicating himself to his studies.
Coach Rich Melillo, Director of Student Services for the Somerville Public Schools, made a passionate plea regarding the importance of making good decisions and of being a positive member of the school community.