By Haley ED Houseman
With the award of a USDA grant to expand Somerville's farm to school programming across the district, the city's school system is set to lead the way in connecting students to local foods. From school gardens to regionally sourced ingredients in school lunches, the program directly impacts students eating habits daily, in the classroom and in the lunchroom.
Karyn Novakowski, the Somerville Farm to School Project Director, notes that the programing is indirectly tied into the city's sustainability and carbon neutrality goals through partnerships with Shape Up Somerville and by involving students more directly with local food advocates and climate change activists. Novakowski says that schools are excited and supportive of providing local foods, and getting students hands-on experience with food.
The City of Somerville has set ambitious goals in its environmental policies, but few have resulted in such tangible results as the farm to school programming in schools across the district. The district was previously the recipient of a USDA Farm to School planning grant in 2014 that helped formalize existing partnerships into a more cohesive network. Now, with the receipt of a $100,000 grant to serve two years, which will go toward increasing local foods in school menus and investing more into K-8 nutritional education.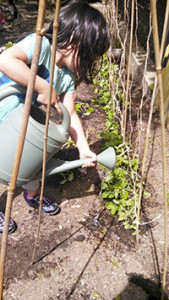 There are other projects brewing as well, including a school farm network, the building of a Massachusetts Farm to School Stakeholder network. The district will also work on developing a process for local food procurement bids. The goals of the program are extensive, says Novakowski. In addition to sourcing local foods and building networks to sustain the program, the district hopes to continue to educate students and families about Massachusetts and regionally grown foods and increase the use of curriculum-based nutrition education in classrooms and school gardens.
Simca Horwitz is a program director for Massachusetts Farm to School, one of the districts partners. She notes that Somerville has been engaged in some form of farm to school activity for many years, included school gardens and serving locally grown food in the cafeteria. "They put together a really great, diverse team of people to work on this planning process." Mass. Farm to School was a part of this team, which included many school officials and representative from local organizations. The program will likely be expanded under the new grant to include more effective local food procurement for the school meal program, including working with distributors to source local produce and seafood, with a focus on good taste and continuing to meet federal nutritional requirements.
Other local groups involved in the districts programming include Groundwork Somerville, which has helped to implement and maintain school gardens for over 10 years. These gardens are fundamental to the educational aspect of the Farm to School mission. They ingrain food and agriculture education deeply into the school culture and give school a sense of ownership of food processes to the students. Novakowski says "students love being out in the garden getting their hands dirty and watching things grow from seed." Every school in Somerville has a garden, except one nearby a community garden.
Most efforts focused on K-8 students, as the high school manages its own garden at the moment. Not every student directly in contact with garden programming, but each can count on least one or two exposures to the agricultural education in their time with Somerville schools. And every student in the district receives the benefits of the local purchasing for school menus. The Somerville Food and Nutrition Services (FNS) program is recognized around the nation for its innovative approach to healthy eating in a diverse community.
Officials are hopeful that this grant open up opportunities for the school district to serve as a model for integrated agricultural and nutritional education. Susana Hernandez Morgan, the director of Communications and Grants for Somerville Public Schools, noted that the grant is designed to foster long term investment in sustainable farm to school practices. Hernandez Morgan says the grant will continue to foster "an appreciation for healthy eating and general wellness, while enhancing students' educational experience."
2 Responses to "Somerville deepens its commitment to food education"