Eagle Feathers #89 – Captain Waters and the Green Mountain Boys
By Bob (Monty) Doherty
John Adams was the most influential man to nominate George Washington of Virginia out of many potential leaders to take command of the Colonial Army. He thought that a leader from Virginia, because of its near central location, would bring the original thirteen colonies together. Adams was right. By the end of the eight- year Revolutionary War, Washington was loved across America.
At first, the General was reluctant to accept command. He thought the battle of Lexington and Concord, which ended in what is now Somerville, was only a skirmish. He changed his mind a month later when the statistics of the Bunker Hill Battle were sent to him. After reviewing them, his reply was, "I will lead these men."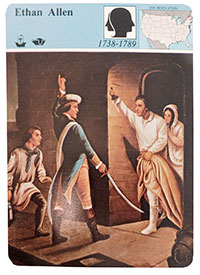 Washington formally assumed command of the Continental Army on July 3, 1775, at Cambridge Common. This, coincidentally, made his first working day of command on the 4th of July. He spent the day inspecting the forts on Plowed, Winter, Cobble, and Prospect Hills.
The Colonials had the British Army bottled up by land, but the enemy still had access to the sea and reinforcements being brought into Boston. Washington had to act, and he did so by establishing a continental sea defense, to be called "Washington's Secret Navy." This navy was successfully active for five months before the official Continental Navy was established.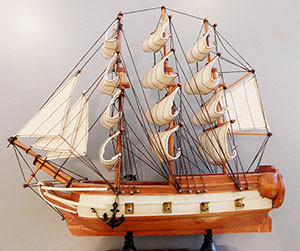 One of the most outstanding Naval officers of this era was Captain Daniel Waters of Union Square's Bow Street. He was a Minuteman in the battle of April 19 and the brother-in-law of patriot James Miller. The 65 year-old Miller was the only patriot to die that day, on what is now Somerville soil. As he held his ground, his last words were "I'm too old to run."
During the siege of Boston, Waters mastered a gunboat on the Charles River. After the British evacuation, Washington appointed him commander of the armed schooner, Lee. With this ship, he went on to capture four enemy transports that year. One of the vessels carried much needed gunpowder for American soldiers. Another carried valuables that the British had plundered from Bostonians, while still another carried 120 elite Black Watch Royal Highlanders and their leading officer. The high-ranking British commander, Colonel Archibald Campbell, would prove to be a very valuable prize for Captain Waters.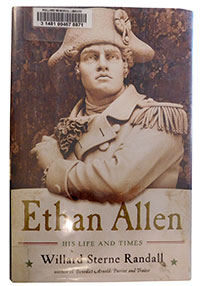 Colonel Ethan Allen was one of America's famous first heroes of the revolution. He was a scout, an explorer, and a patriot. At the beginning of the war, he was the leader of the Vermont Militia known as The Green Mountain Boys. Under Ethan's command, they attacked and captured Fort Ticonderoga in New York and then tried to seize Montreal in Canada. In this attempt, Colonel Allen was captured and then imprisoned at a castle keep in Cornwall, England.
For three years, the two colonels were held captive. Campbell was at Concord and Allen was in England until their 1778 high-profile exchange. Before the war's end, Daniel Waters captained four more ships and captured many more prizes along New England's coast. A navy destroyer, the USS Waters (DD-115), was named after him. It honorably served in both World Wars.