Eagle Feathers #87 – Person's Ten Acres

By Bob (Monty) Doherty
In 1871 Person Davis was a member of the "Town" of Somerville's last Board of Selectmen. The following year in1872, he was a member of the "City" of Somerville's first Board of Aldermen. In business he was a successful grain dealer and merchant. In Massachusetts politics, he represented Somerville for two terms, served on the General Court, and worked on the Committee of Street Railways. Davis Square, which grew up and around Person's house, gardens and orchards, was named after him in 1883. After the Civil War, West Somerville developed rapidly, and since then Davis Square has been at its heart.
In the 1930's, a push to change its name to Middlesex Square was proposed. This was to give it a more regional name. It was defeated. In the 1970's, the name Tufts Square in honor of Somerville's Charles Tufts and the university named after him was suggested but not taken.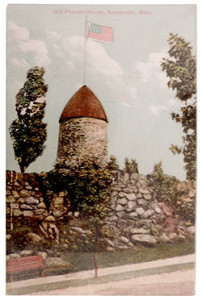 During the past few decades, the Square has evolved some say, from the "Brooklyn of Boston" into the "Paris of New England." But why? There is no Eiffel Tower, Arch De Triomphe, or Bastille in Somerville, and the sight of the beret is not very common. Is it that, down the street from the Square lays the city's symbol, the Powder House that was built by Frenchman, John Mallet? Is it that the Medina Building in the heart of the Square, which now houses Mike's Restaurant, was built by the sale of John Medina's "Parisian" hair and beauty products? Or is it that the perimeter of the Square is dotted with French Mansard-style houses and cottages? The original Louvre in Paris was of this type. Somerville's old Bow Street Police Station and the Mystic Water Works on Alewife Brook Parkway are fine examples of this architecture. Interestingly as they may appear, these are not the reasons.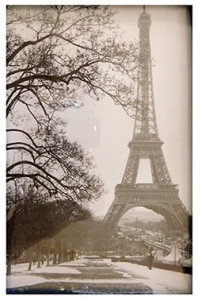 Paris, France has been known as the City of Love, the City of Lights, and the City of Art. Many people think that the Parisian influence arrived at Davis Square in 1984 with the opening of the MBTA's Red Line station. With the new station came an abundance of historic artwork – above, below, and around the square – and with it, the resurgence of the area. Statue Park, Seven Hills Park, and the MBTA's Arts On the Line Program led the parade. Restaurants, cafes and music would abound. The Somerville Theatre played host to Kate Smith, Bruce Springsteen, U-2, Leonard Nimoy, Bonnie Raitt, Elizabeth Von Trapp and many others. The Square is active during the day and, like Paris, lights up at night, and is more than rumored to be a hip place to visit.
Through the years, Davis' Ten Acres have certainly grown well and are still sprouting. Person would be proud!