Eagle Feathers #85 – The First "Cow" Boys
By Bob (Monty) Doherty
A row is a line or rank of persons, seats, houses, animals or other things found in a series. Bow Street, in Union Square, used to be referred to as Doctors' Row because of the convergence of doctors' offices located there. For over 150 years in West Somerville, Professors Row housed Tufts University's highest-ranking educators. The new Assembly Row, which houses the outlets at Assembly Square, is the most recent. The last and by far the most historical row in the city was "Milk Row," now Somerville Avenue.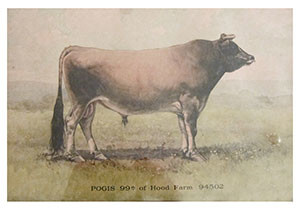 It's been a long time since cows trod down this road, and most of the memories of them have long ago disappeared. Somerville was originally known as Charlestown's Cow Commons, or the Stinted Pasture. Her lands were used for the grazing of healthy cattle, which provided milk, a vital staple of the time. The town's water was brackish and undrinkable and milk provided a necessary substitute. Cows were king, and the addition of milk products enhanced most recipes for porridges.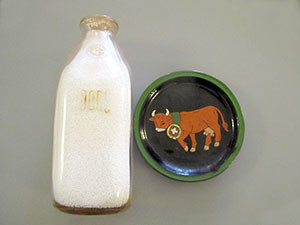 According to legend, Boston's original streets were mapped out by cows led back and forth from the common. Boston, like her older neighbor, Charlestown, had a common cow pasture. Fifty acres of land purchased by Ten Hills' owner, Governor Winthrop, from William Blackstone (Boston's first settler) made it so. The year was 1634. Today, cows are not common on Boston Common, only swans.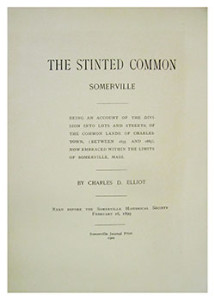 Somerville resident Louville V. Niles made his vast fortune from cows in Massachusetts and then in the Southwest. He was the reason that Fort Worth, Texas, would become known as "Cow Town … The richest little city in the world." Cows and cowboys were his trade. He built his house at 45 Walnut Street and Niles, Texas is named after him.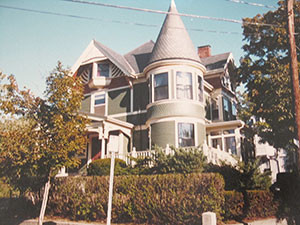 Harvey P. Hood and his sons, the dairy leaders of New England, all had Somerville mansions close to Milk Row. Many branches of the milk company dotted Somerville's landscape. Over the years, Hood-raised cows consistently won cattle awards.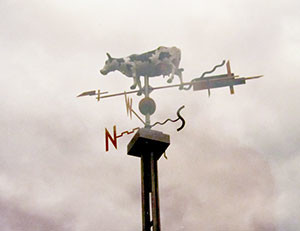 A small street in Union Square called Milk Place was just plowed under. It was a last reminder of the city's bygone era, which should not be forgotten in the Square's new planning. From Porter Square to Sullivan Square, future generations should be told the history of Milk Row and its first cowboys.
It would be a "moo"-ving tribute!