Eagle Feathers #83 – Missy

By Bob (Monty) Doherty
To Americans, it is known as the Greatest Generation. The generation our parents and grandparents fought and lived through. It was the generation that sailed through the choppy waters of the Great Depression and World War II and literally saved the free world as we know it.
The captain of the ship during those turbulent years was President Franklin Delano Roosevelt. He was the first and only president ever to be elected for four consecutive terms, and he died during his fourth term in office. He was honored throughout the world. Locally, he is remembered by the State of Massachusetts on Route 93's Roosevelt Circle in Medford. Cambridge's Housing Authority's, Roosevelt Towers, located on the Somerville line, also honor him.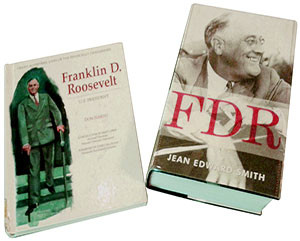 The most common remembrance of this great man is with us every day as part of our currency. Every time we reach into our pockets and see his image on our small, thin dimes, we should remember the enormous gratitude our collective freedom is owed to him. After terrifying times, he put America on the path to victory; and when he passed, soldiers, sailors, and citizens across the world wept openly.
For twenty-one of his toughest years as Governor of New York and President of the United States, Franklin Roosevelt had a woman from Somerville at his side. Marguerite "Missy" Le Hand was his personal secretary. She lived at 101 Orchard Street near Davis Square. Missy attended local schools and graduated from Somerville High School in 1917. She was the Assistant Editor of the The Radiator, S.H.S.'s yearbook.
Jobs were tight in the Boston area, so she and her girlfriends found work at the Navy Department in Washington, D.C. Roosevelt was then Under Secretary of the Navy. In 1921, Marguerite was hired by Roosevelt to be his private secretary; and until illness incapacitated her in 1942, the two were inseparable.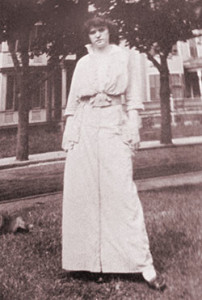 "Missy," as she was called by the Roosevelt children, became an extended member of their family in all aspects. She was loved by them and trusted by Franklin's wife, Eleanor. She and Eleanor would go on shopping sprees together and when Missy's mother died, Eleanor attended the service.
While Franklin was Governor of New York and later President, Le Hand had living quarters in their Albany Mansion and later in the White House. For over twenty years she worked tirelessly as a go-between for the Governor/President, devoting herself as his personal secretary, general manager, fiscal agent, nurse, and companion.
Her last three years were spent in Somerville while she was ill, and despite World War II raging on, she received a constant stream of cards, mail, and visits from politicians, diplomats and well-wishing friends. Missy knew America's secrets and when she passed away at the Chelsea Naval Hospital, she was under marine guard. She was 46 years old.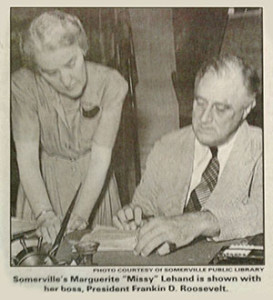 President Roosevelt had Missy in his will. If he died before her, she was to receive half of his holdings, which amounted to a three million-dollar estate. Missy went first, and the inheritance was distributed entirely to Eleanor.
After her death, a ship was named in her honor. It was an 18,000-ton liberty ship, the S.S. Marguerite Le Hand. It was launched two weeks before FDR's death.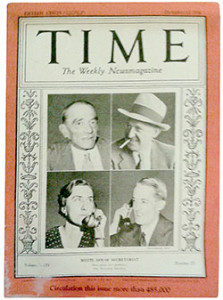 Missy was the first female presidential secretary in United States history. She was considered America's "super secretary," as noted in the December, 1934, issue of Time Magazine.
Through the years, she has been portrayed in Broadway plays, movies, and documentaries. The City of Somerville recognized Missy in 1976 with the dedication of the Children's Room in her honor in its newly restored Central Library. Two paintings, one of Franklin and one of Missy, were commissioned by the city. They still hang in the Central Library. Roosevelt's grandson, James Roosevelt, Jr., and Congressman Tip O'Neill, an Orchard Street friend, were there for the dedication. Franklin Delano Roosevelt referred to Missy as his conscience. They died nine months apart.
Missy was buried at Mt. Auburn Cemetery in Cambridge, and Eleanor attended her funeral.