Eagle Feathers #78 – Pirates on the Mystic
By Bob (Monty) Doherty
From Robert Louis Stevenson's book Treasure Island to Johnny Depp's Caribbean movies, children and adults have been captivated by the tales of swashbuckling pirates. Pirates have plied their treacherous trade for over 2,000 years since the days of early Greece. When they sailed to profit themselves, they were evil "pirates" and when some of them flew under a national flag or for a cause, they were coined "privateers." Contact with colonial and pre-colonial pirates sailing in this hemisphere began in our own back yard.
The first ship built in Massachusetts was the "Blessing of the Bay." It was built by the first governor of Massachusetts Bay, John Winthrop and launched on the 4th of July, 1631. Who knew the day of the launching would later be so significant in American history? The Blessing was used for exploration, commerce, and expansion of The Bay State. She was followed by other Massachusetts-built ships and later, when these ships were attacked by pirates, the Blessing was armed and sent out to protect them. Thusly, she became the first Coast Guard vessel and the progenitor of the United States Navy and was "born" on that Fourth of July.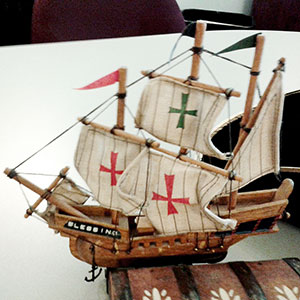 Years went by and as the Atlantic coast developed, the growth of pirate attacks increased. New York City became a nest of brigands and William Kidd, a French and English war naval veteran, was commissioned Captain, hired, and outfitted with a fine ship to put a stop to the attacks. Lord Bellomont, the King's appointed Governor of Massachusetts, New York and New Hampshire, trusted in him to deliver. Little did he know that he would betray his trust. Kidd succumbed to temptation and turned pirate himself sailing over half the globe attacking and pillaging any and all ships he encountered for over two years. His arrogance was so profound that he returned to Boston thinking that he could buy his freedom from Lord and Lady Bellomont. He was wrong. He had enraged and humiliated the Governor and his wife for over two years and embarrassed them in the eyes of their peers. They wanted him to be punished for his treachery, and he was. He was captured in Massachusetts and tried and hanged in London.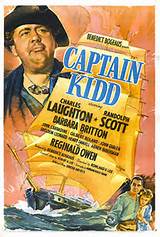 Kidd had become rich from his ill-gotten fortune. It is said that he had buried gold and jewels anywhere from Maine to Florida. Most suspected that some of his treasure was buried close to Boston where he was captured and where he could use it to bargain for his freedom and fame. One site was thought to be on the southern shore of the Mystic River, another was on Governor Winthrop Island, which is now part of Logan Airport. For years treasure hunters have dug holes in the hillsides of Plowed, Winter, and Ten Hills, spurred on by hunches, legends, and counterfeit maps but to no avail. It is said that before capture, Kidd was hiding in a house on the old Governor Winthrop's estate. How ironic … the birthplace of anti-piracy in America. I think Governor Winthrop's verdict on the notorious "Pirate Captain Kidd" would have been the same as the London judge's verdict … to end the Pirates on the Mystic.