Eagle Feathers #77 – A Tip of the Hat
By Bob (Monty) Doherty
While working for many years on the Somerville Fire Department, I witnessed many stories, running from happy to sad, to unusual. Somerville's location is next to Boston, and nested between Harvard University, Massachusetts Institute of Technology, Tufts University and many other schools. Every year this causes dozens of lost students and their families to canvas the city in search of their destination. When asked how to get to Harvard or Tufts, the standard firefighters' reply was, "Study hard, sir; study hard." After a laugh, they would then give the proper directions.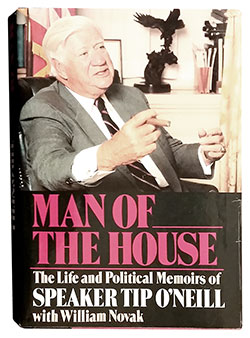 One day, while at work at the Winter Hill Fire Station, a black limousine pulled up, and a young woman got out to ask for help. She had a British accent and asked for directions to Speaker Thomas "Tip" O'Neill's home. I told her how to get to Davis Square and on to his house at Russell and Orchard Streets. To this, her and the elderly gentleman she was driving, both replied that I must be wrong. They said they had already been there, and that they were still looking for the "Speaker's" home. The disagreement went back and forth until we realized that they were looking for a palatial estate. They couldn't believe that the Speaker of the House of Representatives, the third most powerful man in America for ten years, lived in a very modest home and not a castle-like structure. The home is actually split in the middle by the Cambridge/Somerville city line. He would receive his mail and greet people at the front door in Cambridge and dine and sleep in Somerville, all under the same roof.
The Tip we knew was the down-to earth home boy who every two years would walk in the back door of the firehouse, talk and have coffee with the guys and ask for our votes for another term. His visits just confirmed his experience that local politics were important. This was reiterated in his book, All politics is Local. The patriotic O'Neills – Tip, a North Cambridge boy, and his wife, Millie Miller, a Somerville girl – were married on Bunker Hill Day, June 17, 1941, and raised their five children in that home.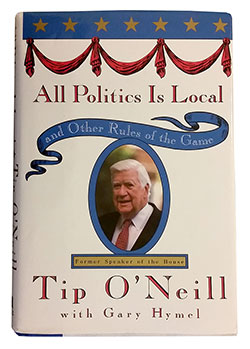 Welcome to America! Isn't it great that here, a bricklayer's son can climb to the heights of Washington's leadership. If you drove through Cambridge during 2012, you would have seen large banners with the likeness of Tip adorning the main streets. This was for the centennial celebration of his birth.
From parks in Cambridge to a library at Boston College, from the French Legion of Honor, to the Presidential Medal Of Freedom, and from the government buildings in Boston and Washington named in his honor, Tip has been remembered for what he did for Massachusetts, the nation, and the world.
Congressman Michael Capuano of Somerville was instrumental in getting the Big Dig tunnel named the "Thomas P. O'Neill, Jr. Tunnel" in honor of Tip and his legendary career.