Eagle Feathers #73 – Hidden Henry Hansen

By Bob (Monty) Doherty
It has been seventy years since the United States landing on Iwo Jima on February 19, 1945.
At an appalling cost of nearly 6,800 lives and 17,000 injured, the month-long struggle proved to be the toughest in Marine Corp's history. The battle was highlighted by the early American flag raisings on the island's highest peak, Mt. Suribachi. It was a photo of the second and larger flag raising by Associated Press photographer, Joe Rosenthal, that became a national, iconic image. Two American flags would be flown on that day. First, a small flag was raised under fire and combat. Hours later, a larger, more visible flag was raised after the elevation had been secured.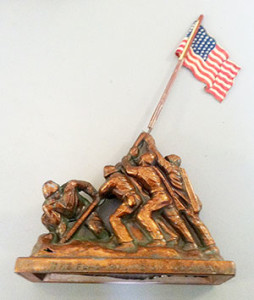 On February 23, six-year veteran, twenty-five year-old Sergeant Henry Hansen of Somerville, along with his lieutenant and another sergeant, led their forty-four man platoon in seizing the hill. After Hansen shot holes in a long section of water pipe, he fed a rope through and secured the ensign. Together, the three men then raised the first American flag over the soil of the Japanese empire. This was the first foreign flag to do so in a thousand years and was recorded by a marine photographer. The Marines had lost 2,000 men in the first three days, while fighting their way to the foot of Suribachi. They reached its base on February 22, George Washington's birthday.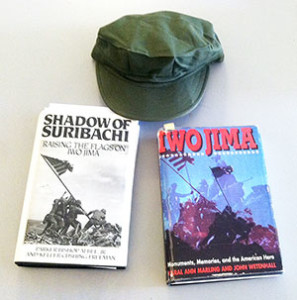 As far as Hansen was concerned, this action was entirely fitting for a soldier who was accustomed to flags. He had grown up in the shadow of Prospect Hill in Somerville, where General George Washington had ordered and observed the first American flag raising 170 years before. He was also his company's flag, or Guide Arm Bearer, during training.
After the first flag raising, both his lieutenant and platoon sergeant were ordered back aboard ship to report their actions, leaving Henry as senior man that afternoon. Four hours later, he and others were filmed and photographed raising the second, larger flag, and taking down the first, smaller flag. He participated in both actions, but was only credited for the first raising.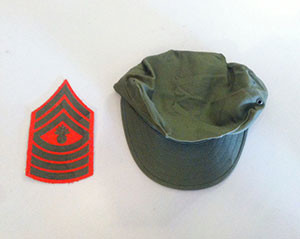 His favorite headgear was an identifiable soft, field cap, which he wore during both flag raisings. He was the only marine to do so. If you look at Joe Rosenthal's famous still photo, you will not see him; but if you observe the Marine's "filming" of the flag raising, you can clearly spot him wearing his trademark field cap.
Hansen's Lieutenant, who helped raise the first flag, and the second flag's filmmaker were killed on March 3, Somerville's birthday. Sergeant Henry Hansen was killed two days before from a machine gun burst, on March 1, 1945, the tenth day of the battle.
Seventy years ago, Sgt. Henry O. Hansen raised "The Flags of Iwo Jima."