Eagle Feathers #70 – A Sporting Chance
By Bob (Monty) Doherty
Somerville has always had a deep-seated history in sports, far deeper than most. Settled before Boston as part of Charlestown in 1628, the colony was subject to Puritan rule. By 1659, strict rules had outlawed card playing and dice. This was for fear of betting. Football, oddly enough, was allowed, unless played on forbidden streets or lanes.
Over a century later, in 1775, the Revolutionary War hero, Captain Nathan Hale, wrote to his mother from Winter Hill. He apologized to her for his fighting on the Sabbath. His Winter Hill wrestling team had meets against Prospect and Cobble Hill. Unlike the Saturday afternoon wrestling of today, they were military and practiced with weapons.
In 1777-1778, Hessian prisoners of war brought the sport of bowling or "keg-legging," as they called it, to Somerville's Winter Hill. Almost two centuries later, the first automatic candle-pin bowling machine in the nation was installed near the site of Leone's Pizza on Broadway.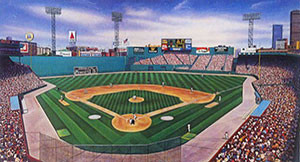 Through the years, many notable athletes were rooted in Somerville. They and thousands of others excelled in athletics or contributed to Somerville's sports lore. The list includes:
"Jake" Kilrain – World Heavyweight Champion Boxer and Amateur Rowing Champ.
Brother Gilbert Cairns – Discovered Babe Ruth. Attended St. Joseph's School in Union Square.
Harold Joseph "Pie" Traynor – Baseball Hall of Fame and Best Third Baseman for ten years straight. Learned to play ball at Trum Field, sometimes barehanded.
Larry "Boston Shorty" Johnson – New England Pool and Billiards Champ, Billiards Congress of America and Hall of Fame Inductee in 1999.
John Taylor – Owned and named the Boston Red Sox.
Charles Taylor – John Taylor's father and Somerville Alderman. He owned the Boston Globe, the Boston Red Sox and built Fenway Park.
Bobby Boris Pickett – Singer-songwriter of The Monster Mash and Captain of Somerville High School's Basketball team.
Olympia Dukakis – Actress and New England Women's Fencing Champ for three years in a row.
Howard "Howie" Long – Born in Somerville on January 6, 1960. Attended Milford High School (shot-put and football); Villanova University (boxing and football); professional football (Oakland/Los Angeles Raiders); National Football League Hall of Fame and sports analyst.
Anthony "Tony" Lavelli, Jr. – Somerville High School and The College of the Holy Cross (basketball); Boston Celtics (player and musician) and a memorial to him at Conway Park.
Paul Wylie – Silver Medalist in Figure Skating at the 1992 Olympics. Huge banners adorned the Union Square Post Office proclaiming Teele Square as "Paul Wylie Square" for over a year.
Daniel "Danny" MacFayden – "Spectacled" (with his horn-rimed glasses) baseball pitcher for both the Red Sox and the Yankees. Once struck out Babe Ruth and Lou Gehrig back to back.
Erin Warren – A member of the 1994 U.S. Olympic Luge team and was eliminated in an accident during one of her runs. She placed 6th in the 1998 Olympic competition.
John Nunziato – Honored three-sport athlete at Somerville High School and Boston University. He replaced the celebrated Harry Agganis, as quarterback at BU. Somerville High School football coach from 1958 to 1970 and led his team to a Greater Boston League Title. Union Square's Nunziato Field is named after him.
It's been a long road. From backyard peach-basket basketball and dusty fields, to over sixty beautiful parks of various types now embracing the city, Somerville has rewarded its athletes … Proudly!