Eagle Feathers #67 – Anderson's Train
By Bob (Monty) Doherty
Charlestown, established in 1628, is older than Boston. It originally covered ten towns before it split and annexed itself to the capital city, taking 200 years to accomplish.
Somerville was the last to separate in 1842, and Woburn was the first to leave in 1642. Through the forthcoming years, one of the only things that would slowly reconnect them were new transportation routes. The Middlesex Canal was built in1803, followed by the Medford Turnpike in 1804, the Middlesex Turnpike in 1823, the Boston and Lowell Railroad in 1835, and eventually Interstate Route 128 in 1951 and Route 93 in 1963.
Not long ago, Route 93 travelers were uncomfortably aware of which town they were passing through. The reason for this awareness was the strong odors permeating from the upheaval of a toxic waste site abreast of the highway. It was one of the ten worst contaminated sites in the nation.
The location was just north of the Route 128 and the Route 93 cloverleaf, where former chemical, glue manufacturing and tannery companies flourished for over 100 years. It was Woburn, Massachusetts.
Now, many years later, the area has been restored and sealed with an impermeable layer as a result of a $70 million superfund. This 300 acres of reclaimed area is where Route 93's newest bridge takes you to Raytheon, Target, and The Anderson Regional Transportation Center.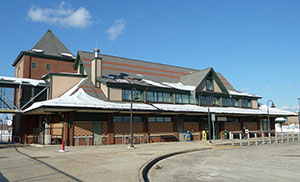 The ARTC is the most interesting site of them all and was named in honor of young leukemia sufferer Jimmy Anderson. He was one of the inordinate number of cancer victims from this area. This multi-functional MBTA and Amtrak facility serves rail, bus, and airport shuttles to Logan Airport.
Jimmy's mother, Anne Anderson, grew up in Somerville, went to Somerville High School and was a Somerville librarian for seven years before moving to Woburn to raise her family. It was Anne Anderson who, inspired by her son's and other children's suffering, became the spark plug of an eight-family lawsuit against suspected polluters of Woburn's water supply. During this time one of these families, the Aufieros, also formerly of Somerville, was on its way to Massachusetts General Hospital with their 3 ½ year-old son, Jarrod, when he stopped breathing. They detoured off Route 93 for help at the Winter Hill Fire Station. Firefighter Fred Carter performed CPR on Jarrod until they reached MGH where he later died.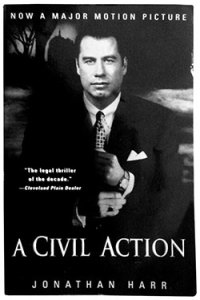 Anne's suspicions and persistent detective work brought to light a cluster of child cancer cases in her neighborhood and beyond. Her untiring work eventually led her to testify in Washington, D.C. The complicated, landmark case of the 1980's generated a number-one best-selling book by Jonathan Harr, A Civil Action, which took 8 ½ years to research and write. This, in turn, generated a major, star-studded motion picture with the same title. The cast included John Travolta, Robert Duvall, James Gandolfini, Kathleen Quinlan, and a bit part by talk-show host and former Somerville resident, Howie Carr.
Because of the efforts of Anne Anderson and her colleagues for over a decade, a superfund and the Massachusetts Cancer Registry were established.