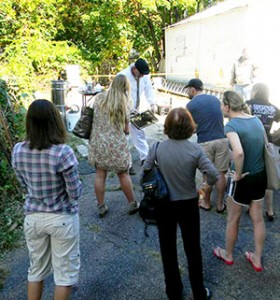 By Jim Clark
Honey Bee Day was held on Saturday, September 27 behind the office of Best Pest Control Services at 63 Elm St., Somerville.
The event was attended by about 50 adults and children who learned some basic honey bee facts from Rod Kreimeyer about how the bees help our urban environment, the way the bees work and live and how important bees are to our survival.
Everyone had the chance to sample some fresh honey right off of the comb from the hive along with refreshments of honey-based foods prepared by Chef Jana DuPree.
Many attendees, including the children, suited up and got a chance to get an up close view of the bees in action and work the hive with Kreimeyer.