By Douglas Yu
Art can be explored in many ways: painting, literature, photography, handcrafts and so on. This past weekend, Somerville residents were lucky enough to breathe in these forms of art at Washington Street gallery all at once – they saw, talked and made art through interacting with local artists at the See Art, Talk Art, Be Art exhibition.
But first, let's paint a selfie. Contemporary artist Danielle Festa said she started painting since she could hold a brush. This time, she gathered selfies that people from all over the world volunteered by sending them to her through social media and painted them on canvases and fabrics.
All the characters on the wall are so realistic they are often mistaken for real pictures. Festa herself named the exhibit Ourselfies.
"My work in particular crosses a lot of boundaries for mediums, so when I try to sew in a particular material that is really difficult, I go next door to people that know how to sew," Festa said.
Festa's exhibit features selfies from around the world. One of them displays a woman turning her head to the side. She has dark blond hair and wears a black fur collar. However, this is not a flat art; if you take a closer look at the canvas, the woman's black fur collar actually stands out.
Like so many portraits in the exhibit, Festa cut through certain parts of the pictures and replaced them with the actual materials that those characters wear to make them look more realistic.
"I experimented a lot in a lot of these pieces," Festa said. "The first time I cut into a piece with an Extacto knife it was scary. But I realized that I used that effect for a few times, and there are things coming out, like the yarn coming out, and the hat and stuff, it's the best way to make it look like part of the piece."
Festa says that Ourselfies makes her step out of her comfort zone and take on a new approach to reach out to subjects.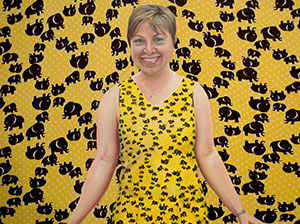 "Usually, when I want my subjects, I want to paint them, I'll take the photo. But this was allowing people to take a photo themselves, send it to me… and there is no limit to location," Festa said. "There are people from Germany, Indian and Ghana coming into my inbox. It was exciting to see what I get, and insofar as fashion and fabrics, the range just opened up. And I got some really fun references to work from."
In many of her portraits, Festa chose to decorate the background with the same patterns that the characters wear. One of the examples is a woman who wears in a bright yellow dress that is dotted with tiny elephants. And her background is the exactly the same as her dress.
Festa explained that people sometimes quickly decide what a person is like based their clothing. "We don't really think about it, so I'm trying to get people to think about that," she said. "I just like the variety of the different kinds of clothing that people wear, and so I'd like to focus on their kind of individualism."
Another portrait that stands out at the gallery is featured with Festa's sister in-law's sister. In the picture, her brown eyes are beaming with the reflections of objects in the distance, a lock of hair on one of the side of the face curves as if it was blown with the wind. She also "wears" a delicately knit scarf that is, again, added by Festa with real fabric. And her background is the world-renowned Eiffel Tower.
"She has the gorgeous skin with freckles, and I just had so much fun painting it," Festa said, smiling.
Besides the realism art works at the gallery, there was also a workshop to show people how to seek beauty in reality. The director of Washington Street, Lee Kilpatrick, rolled out a series of the cameras of different eras on a table in chronological order, among which was Brownie Hawkeye camera that was once popular in the fifties, and a Horizon panoramic camera.
Along with the different types of cameras, Kilpatrick also showed his booklets of photographic works. Each of them has different effects in lighting, themes and meanings.
One of Kilpatrick's pictures captures a farmhouse and a barn in northern Maine with gloomy grey clouds above it.
"That's where I'm from," Kilpatrick said. "I mostly do photos of people, but I have a lot more landscape in this one. You can see in the picture, the houses are very isolated and the photo is very isolated because of the large sky. There is nothing else around."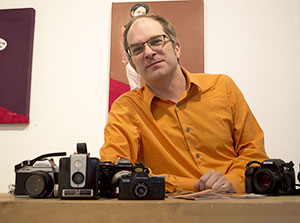 Adding to the rich tapestry of Somerville's artistic offerings, Anna M. Warrock brought her collection of lyric poems called Horizon to the event. At the same time, she also created poetry at the scene through the words given by the audience.
"I use a landscape or perhaps a personal landscape to open up a horizon, so my readers are taking on a journey to identify both what's going on in the poem and their response to it as it goes on," Warrock said.
Warrock's poem My Father Waves describes a touching moment when her father was about to be sent to a nursing home and then died two weeks later.
"To be a honest, it's somewhat difficult for a poet to write about his or her self without being too egotistical and getting too involved in the self as opposed to what the poem is about," Warrock said. "So, I not only need to balance the relationship with my father, but also who my father was as far as I could see him."
As a renowned Somerville poet, Warrock has received Somerville Arts Council fellowship and project grants. One of her poems was also carved into the Davis Square train station when it was being built.
"When they were building the subway at the time, it was actually one half of one percent of the federal monies to build the project that is devoted to the arts," Warrock said. "In our case, they chose six submitted poems from Somerville writers."
The See Art, Talk Art, Be Art event presented by Washington Street also included Gretchen Ann Graham explaining how darkroom developing works and Athena Moore demonstrating pamphlet-stitch bookbinding.
"There are a lot of different things that people can learn about from people that are practicing these art forms," Kilpatrick said, "and how they approach different types of art works."