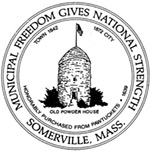 Broadway in Winter Hill will berepaved on Monday, Aug. 18 between the hours of 7 a.m. and 7 p.m.  from Dartmouth Street to Grant Street. Traffic in each direction will be open both days, with traffic diverted to the other side of Broadway as needed. Drivers should expect delays.
No parking will be marked and enforced on both sides of Broadway on  Monday during construction hours. Business owners, customers and residents without parking stickers are encouraged to park on adjacent streets, where no ticketing will be in effect.
On Monday during construction hours, there will be no access to driveways and parking lots on Broadway or deliveries allowed. If you need your vehicle during the day, please have it moved from the driveway or parking lot prior to 7 a.m. Also on Monday, Dartmouth Street will be closed at Broadway with two-way traffic allowed back to Evergreen Avenue.
Work will take place weather permitting; if rain is too heavy on Monday, paving will take place on Tuesday. If you have any questions, contact 311 (617-666-3311).
— City of Somerville