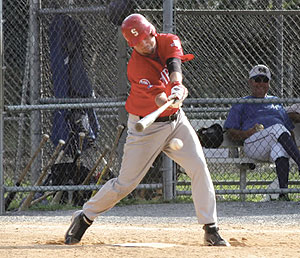 By Jim Clark
The Somerville Alibrandis have advanced to the semi-finals after sweeping the Brighton Black Sox in the Round 1 series, 3-0.
In game 1 (Somerville 3- Black Sox 1), Chris McKenzie pitched 6 solid innings allowing only 1 run and striking out 11. Brian Tanguy recorded the save. Mike Maguire, Kevin Salines and Logan Gillis all recorded 1 RBI.
In game 2 (Somerville 1-Black Sox 0), Chris Foundas pitched a complete game shutout striking out 9. In the bottom of the 7th Mark Addesa bunted a ball down the 3rd baseline that Black Sox threw away allowing Logan Gillis to score from 2nd base.
In game 3 (Somerville 7-Black Sox 0), Jon Morse pitched 6 solid innings allowing only 2 hits and striking out 8. Dan Mahoney struck out the side in the 7th. Ted Dziuba led the Somervolle offense going 3 for 4 with 2 doubles and an RBI. Marc DesRoches, Sal Mendonca and Mark Addesa also had 1 RBI apiece.
Somerville will start their next series against Savin Hill, Stoneham or East Boston pending the out come of the other series that are being played. Games will start either Tuesday, August 12 or Wednesday, August 13 at Trum Field.
Please check www.yawkeybaseball.com for updated schedule. Or follow the team on twitter @somervilleybl.