Life in the Ville by Jimmy Del Ponte
(The opinions and views expressed in the commentaries of The Somerville Times belong solely to the authors of those commentaries and do not reflect the views or opinions of The Somerville Times, its staff or publishers)
My friend's family used to own The Coronet Lounge/Bar/Restaurant which went on to become Barnaby's and then Redbones. It's located at 55 Chester Street in Davis Square. Locals such as The Skipper, Bobby Doughnuts, Bobby Polaroid, Peter Pizza, Uncle Paul and Magic frequented the joint when it was Barnaby's. Today you can find a vast array of barbecue loving patrons in Redbones. There are 25 draft beers on tap as well. You can still see the Barnaby's lettering on The Redbone's sign. I wonder if The Coronet letters are under that?
Once again we will take a little trip down my favorite street, Memory Lane, and talk about The Coronet. We are doing our best to approximate the dates of these historic tales, so let's start in the mid to late 50's to early 60's. There is a condemned three-decker house at 55 Chester Street. My friend is none other than Somerville's own Danny Kallis, who went on to open Dapper Dan's Restaurant in the old Assembly Square Mall. His father, Peter Kallis was in the bar business with his brother in law, George Demos. George was a professional wrestler who went by the name of Roughhouse Williams. (nothing like having a built in bouncer!) He wrestled with notables such as Strangler Lewis back in the day. Anyway, Peter and George had been renting out The Rosebud down the street for years and offered to buy it from its owners. When they wouldn't sell, George and Peter decided to purchase the condemned house at 55 Chester St, tear it down, and build … The Coronet!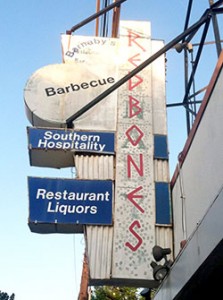 Danny started working there when he was about 11 years old and performed just about all the duties required to run a restaurant, bar and function room. The downstairs room in The Coronet could accommodate around 100 people and was the site of many weddings, showers, and parties. Danny says he must have worked at least 100 of these events. He eventually became "chief cook and bottle washer." The Coronet always had a staff of at least ten people.
One of Danny's fondest memories was when defending world champion, all round pocket billiards champion Boston Shorty, who was a regular, was to play some up and coming youngster named Miserack. Former Channel 5 sportscaster Don Gillis was going to televise the match live from the Day Street pool hall. Danny was invited to be at the telecast complete with a snazzy tuxedo. Well, Lucky Strike smoking Shorty completely took this guy to the cleaners and beat him with no sweat. Shorty showed Danny enough slick pool moves to earn himself a few bucks every now and then from some unassuming local kid.
At one time The Coronet was the only local joint around with a 1 a.m. license. Danny remembers preparing for the onslaught of last call patrons. He would mix a gallon of martinis, a gallon of Manhattans, and a gallon of sombreros. As I have said many times before, wouldn't it have been great to have had a video camera to record all the excitement, hi-jinx and colorful shenanigans that must have gone on at The Coronet back in those early years. I bet it would have been better than Cheers!
Growing up in the 60's in the restaurant and lounge business in Somerville gave Danny a lot of treasured memories. Next week I will tell you about the Hires Root Beer Barrel that now resides in Danny's house, and where it came from.