A Full Weekend of Community, Family, and Pup-Friendly Fun on tap Saturday, Aug. 2 & Sunday, Aug. 3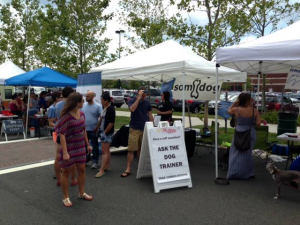 som|dog and Assembly Row have announced today that the SecondAnnual Pet-Palooza will be held Saturday, August 2 and Sunday, August 3. This year's event will be hosted by som|dog and will make a splash at Assembly Row, literally. Somerville, at its newest neighborhood, is in store for a two-day, family focused festival to celebrate dogs of Somerville and surrounding cities. som|dog is an all volunteer organization dedicated to bringing canine education and training opportunities to the community, assisting local animal control and helping to maintain and expand city dog parks.
Thanks to the generous support from Assembly Row, Federal Realty and The City of Somerville, Pet-Palooza is free and open to the public and will include DockDogs® regional competition, open swim for pups, BeantownDisc Dogs' Cup Series, agility demonstrations, canine fitness classes, "try-it" rings, and "Ask the Trainer" stations. Unique pet boutiques, gourmet treats, clothing and pets available for adoption are just are few of the fun features this festival will bring to the community.
"Assembly Row is the newest neighborhood in Somerville and is enjoying an entire season of grand opening fun as the stores and restaurants continue to open. . Community events like Pet-Palooza bring so much excitement to the neighborhood, everyone on the Row is looking forward to greeting our four-legged friends and their families as they explore their new stomping ground," said Andi Simpson, Director of Marketing, Federal Realty.  "We started Pet-Palooza in 2013 with the sole purpose of bringing people together to celebrate our love of dogs in honor of our mascot, Rosie. Partnering with som|dog takes the event to an entirely new level, we're psyched."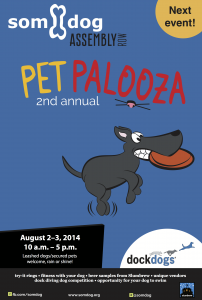 Event goers will have the opportunity to taste exclusive samplings from Simpson Spring, a family owned bottling plant who will also keep canines and their companions hydrated by providing pure spring water and old-fashioned, hand-mixed sodas in a variety of favors.
"The outpouring of support that we've received from local businesses, dog groups and the City to put on this event is amazing," says Brian Davis, president and board chair of som|dog. "It's a part of our mission to bring the dog loving community together and provide them with free resources, support, and fun activities to help create a network of responsible dog owners. We take pride in our city and all of the dog-friendly opportunities provided to us." som|dog will also be accepting donations for Somerville Animal Control throughout the weekend, both monetary and dry goods, including cat and dog food and towels.
Pet-Palooza, hosted by som|dog, will be held from 10 a.m. to 5 p.m. on Saturday, August 2 and Sunday, August 3 at Assembly Row and DCR's Sylvester Baxter Riverfront Park, Great River Road, in Somerville, Mass. For a full list of events and Pet-Palooza's itinerary visit, www.somdog.org/events. Or assemblyrow.com. For questions of more information visit, www.somdog.org, or call, 617-863-7229.
"In Somerville, we take pride in creating new, unique, and funky ideas and celebrations to include residents of all ages and from all backgrounds, and that includes our four-legged residents. We are excited to continue our partnership with som|dog and with Assembly Row to bring family-friendly fun back to Somerville's waterfront." Said Mayor Joseph A. Curtatone, City of Somerville.