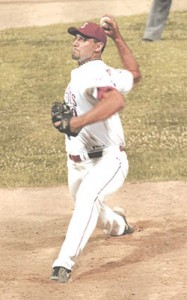 By Ben Cassidy
Last Thursday night, the Somerville Alibrandis defeated the South End Astros 4-3 at Jim Rice Field in Roxbury. The victory moved the Alibrandis to 15-7-1. As of Sunday, Somerville trailed Stoneham and Revere in the Ted Williams Division of the Yawkey Baseball League.
Somerville started and finished strong against South End. The Alibrandis scored three runs in the first inning and broke a 3-3 tie with a run in the seventh, which proved to be enough to squeak by the middling Astros (10-11-1 as of Sunday). Ted Dziuba had two of the Alibrandis' eight hits, including his first home run of the season, and Marc DesRoches provided two more knocks from the fifth spot in the order. Vladimir Camacho pitched a scoreless sixth and picked up his second win of the season, and Brian Tanguy notched his fourth save of the season.
The Astros were able to hang around because Somerville was uncharacteristically sloppy in the field. Over the first 22 games of the season, the Alibrandis had committed 35 errors. Against South End, the club had four miscues.
The Alibrandis play the Brighton Black Sox tonight at Rogers Park and host the Brighton Minutemen on Friday at Trum Field. The Alibrandis were to have played Monday at East Boston.