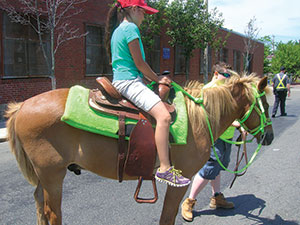 By Douglas Yu
It's been 10 years since Somerville mayor, Joe Curtatone, implemented the idea of creating a citywide holiday where families in Somerville can bring their kids to join all kinds of recreational activities and have a great time.
The last Family Fun Day at Trum Field Park in Somerville included kid's soccer, pets, barbecue and bounce houses. This year, the city also brought two ponies for kids to ride around the park and blue-colored, foam-made imagination blocks for them to use their creativity.
Carlene Campbell-Hegarty, Director of Community Relations at the City Hall, said, "We call Family Fun Day summer time in Somerville. And we tie in Family Fun Day and Fourth of July under one umbrella."
The inception of the idea of Family Fun Day came after Curtatone revived the tradition of fireworks in Somerville, which had stopped about 24 years ago. When Curtatone became the mayor, he not only brought back the fireworks that he grew up enjoying, but also created "old-time-fashion barbecue," according to Campbell-Hegarty.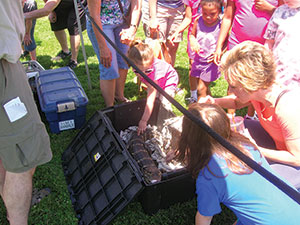 "Over the years, Family Fun Day became a great and safe place for people to come, have a good time, be with your families and enjoy a beautiful summer afternoon in the city," said Campbell-Hegarty.
Children ranging from newborn to nine years old are found dancing, getting their faces painted, and playing parachute on this family-oriented holiday every year.
Campbell-Hegarty was not sure about the demographics of the families who attended Family Fun Day over the last 10 years, but she was certain that the number of participants had increased.
"Every year, it's bigger. We planned for three thousand people in the past five years, and we ran out of food," said Campbell-Hegarty.
A team of more than 20 high school volunteers was also trained by Somerville Job Program to supervise and protect children's safety in different activities. The program, initiated by the mayor, provides opportunities for Somerville youth to work within the community during the summer months.
Nancy Bacci, Youth Services Coordinator at the City of Somerville, said that the Somerville Job Program is funded through the city's budget.
"The city's administration and Board of Aldermen realize the importance of keeping young people busy throughout the summer, so we are able to hire them in positions in various city departments," Bacci said.
Somerville high school students have to go through a application process that comes during the month of April to become a volunteer at the Family Fun Day. All the applicants are interviewed by the city staff, and they will be selected based on their individual interests and experience.
Noe Perez attends Somerville High School, and on this special holiday he, along with other volunteers, was wearing a red uniform T-shirt and supervising kids who played in the bounce house. Before he joined the volunteer team for the first time, he heard the holiday was "a lot of fun" from his friend.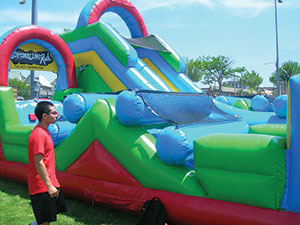 "I also heard it could be a helpful job, so I decided to do it," Perez said. "During the training, we learned how to do CPR, how to take care of kids and other basic things."
Somerville Family Fun Day also attracts local and national support, including 311 Somerville and Century Bank.
Belia Ducasse is a Constituent Representative at 311 Somerville, the city's innovative customer service system. She said that the presence of 311 Somerville made sure that residents have access to the information that the city provides.
"It's a great opportunity for the city to interact with its residents as well as to have a fun time," said Ducasse.
Campbell-Hegarty, also the organizer of the holiday, said that she was "very lucky" to work at a place that's focused on families and involved in the city.
"All I can say is that I hope that Family Fun Day gets bigger and better," Campbell-Hegarty. "And if there is anyone who has new ideas for the holiday, send them along."
— Photos by Douglas Yu