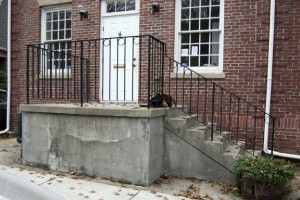 Look out for a new attractive, handicapped accessible entrance to the Somerville Museum this fall. The Massachusetts Cultural Facility Fund (MCFF) has awarded the Museum $40,000 toward a $200,000 renovation project to bring the building up to the requirements of the Americans with Disabilities Act (ADA).
With this award and earlier awards and donations of over $90,000, the museum will begin work on construction of the new Westwood Road entrance this July. Marco Breda of Marco Polo Construction, a highly recommended contractor and Somerville resident is working with Richard Graf, the museum's architect to undertake the work.
The museum still needs to raise another $75,000 to complete the interior ADA improvements, including creation of a handicapped accessible restroom. The goal is to have the museum completely ADA compliant by the end of 2014.
The museum wishes to acknowledge financial assistance from the Massachusetts Cultural Facilities Fund, the Wallace Foundation, Somerville Open Studios, Tufts University and private individuals whose contributions are making this project possible.
If you would like to contribute to finishing the interior ADA work of the museum, you may do so online at http://www.somervillemuseumbuildingfund.org/donate_now or you may write a check out to the Somerville Museum Building Fund and send it to: Dyan Blewett, Treasurer, Somerville Museum, One Westwood Rd, Somerville, MA 02143. All donations are tax-deductible as charitable contributions to a 501c3 organization.