America's oldest and one of its largest antiquarian bookshops

*
By Betty B. Levin
While books are no longer banned in Boston, many still think of Boston and books … books by famous authors, poets and experts from all sorts of disciplines. To find a source for books beyond a traditional bookstore such as a source for old and rare books, a place to get book appraisals, the place to know is the Brattle Book Shop. Located at 9 West Street right in the downtown Boston, the shop is America's oldest continuously operated bookshop and one of the country's largest.
Many browsers enjoy the serendipity of what they might find. Others come for specific titles or editions. They may be aficionados of a particular author or genre or they may be collectors who are hoping that their finds will prove to be good investments. Second-generation owner, Kenneth Gloss, suggests that while books such as a first edition of the Harry Potter books has been known to sell for as high as $40,000 and early computer books have increased significantly, it's still in the reading that brings the most enjoyment.
Three floors and a large open lot to the right of the shop are filled each day with a quarter of a million tomes from classics and hard-to-find titles to yesterday's bestsellers. The store's rolling carts are found below the large black-and-white mural of well-known authors painted by several area artists. The art was commissioned by the Brattle Book Shop. All the books outside are $1, $3 or $5. Inside there are also thousands of book bargains on hundreds of bookshelves by general subject. For example cookbooks are all stacked together as are histories, children's books, art books, and photography books to name a few.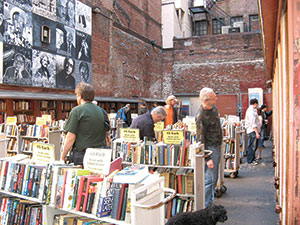 Among the most popular sought-after categories are books about the presidents – Washington, Adams, Jefferson and Lincoln are there, but Kennedy books are still the most in demand. Other favorites are the numerous Boston and New England authors and poets such as Longfellow, Emerson, Frost and yes, Stephen King! Stephen King? The first edition books of this man from Maine do keep going up in value.
Book hounds also scour the Brattle Book Shop for books with autographs or fine art prints, old maps and old magazines. Whether it's two books or two bags of books that visitors bring with them, the knowledgeable staff will give free verbal appraisals for their literary treasures or will arrange a home visit for those wishing to sell substantial collections.
Ken says, "That among the throngs of visitors to the store have been well-known local and nationally known personalities from the worlds of politics, literature, music, films and the media. They prowl the three floors in thoughtful bliss just like most book-lovers who repeatedly find themselves drawn to this well-known and beloved shop.
Ken, himself is somewhat of a celebrity. Many from around the country know of him and recognize him from the numerous appearances on PBS' Antiques Roadshow where he's been a guest appraiser. He's also been heard on WBZ Radio's highly rated programs or at the many talks he's invited to give to libraries, historical societies and other public and private organizations throughout New England and other parts of the country. His popular presentations are filled with anecdotes and memories of books sought and books found. He brings many examples of books and ephemera that he's acquired over the years such as the poster of the play the night that Lincoln was assassinated, the sales brochure for the Titanic and the program from the 1912 game when the Red Sox won the World Series.
Ken's parents bought the bookstore in 1949 and he helped out from the time he was a child. He's been told that his first word was "book" … and no wonder! He grew up in Dorchester, went to the prestigious Boston Latin School, U Mass Amherst and was accepted to a PhD program in chemistry at the University of Wisconsin. When his father became ill he postponed and eventually scrapped those plans before his father passed away. "I haven't regretted the change in career plans for a moment," says Gloss. "Every day I get to be like Jim Hawkins in Treasure Island by getting to visit people's homes and finding engaging people as well as interesting books to buy." His wife, Joyce Kosofsky, a collector of jazz books is also active in the business.
More info about the shop can be found at www.brattlebookshop.com. The Brattle Book Shop is located in the Downtown Crossing section of Boston, not Cambridge, as many a person who knows that there's a Brattle Street there has assumed. "I wish I had a dollar for every frantic call we've fielded from visitors searching for us in Harvard Square," exclaims Ken.
The store is open Monday through Saturday from 9 a.m. to 5:30 p.m. The phone number is 617-542-0210 or toll-free at 800-447-9595. Inquiries about books, appraisals as well as scheduling talks are always welcome.
Betty Levin has represented the Brattle Book Shop since 1986. She is president of Re: Sources, a publicity firm and can be reached at bettylevin@yahoo.com.