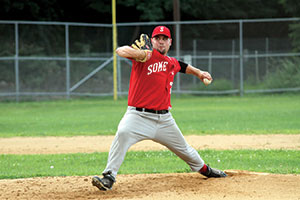 By Ben Cassidy
After losing to the Stoneham Sabers in extra innings on the 15th, the Somerville Alibrandis rebounded by winning thrice last week against the Brighton Black Sox, AlThomas Athletics, and Malden Maddogs.
Against the Black Sox last Monday, the Alibrandis played with a short bench—three pitchers were in the lineup—but still managed 10 hits, beating Brighton 8-3 at Rogers Park. The top five hitters in the Alibrandis' lineup (Mike Maguire, Logan Gillis, Ted Dziuba, Bobby Barrett, and Mark Addesa) went 8-17 with three walks and five runs batted in, and Chris Foundas scattered three hits over five scoreless innings en route to his fourth win of the season.
Last Wednesday, the Alibrandis defeated the Carl Yastrzemski Division-leading Athletics 5-3 at Trum Field. Dziuba, who went 2-3 with an RBI from the three-hole in the order, led the offense, backing pitchers Jon Morse, Dan Mahoney, and Brian Tanguy. Morse improved his record to 4-0, and Tanguy earned his second save.
The Alibrandis completed the trifecta with a 8-3 victory over Malden last Friday at Trum Field. The squad scored six runs in the first inning against Maddogs starter Blaine McLean, who was knocked out of the game in the third inning. Marc DesRoches homered for the Alibrandis; it was DesRoches' 700th career hit.
Somerville hosts the Revere Rockies tonight and the South Boston Saints on Friday. The Alibrandis were to have played Malden yesterday at Maplewood Field.