Life in the Ville by Jimmy Del Ponte
(The opinions and views expressed in the commentaries of The Somerville Times belong solely to the authors of those commentaries and do not reflect the views or opinions of The Somerville Times, its staff or publishers)
"…Started in 1913 … the shop grew from carriage needs to auto needs and then in the 1940's … the addition of electrical appliances came along … and the name was changed to Lechmere Tire and Sales Company." The word "tire" would be dropped by 1950 … and most of us would fondly call the sprawling retailer located just over in East Cambridge … Lechmere's." From Shopping Days in Retro Boston.
Lechmere Sales was gone by 1997. In its heyday the store at 88 First St. in Cambridge was the place to go for major appliances, household and electrical goods at reasonable prices. At that location since 1963, not only did it boast of a large parking area, but it was also on the Green Line (Lechmere), making it quite convenient. Do you remember that all the prices ended with 88 cents to depict the stores' address?
My dad bought our first color TV there around 1964 or so. I can still see the excitement on my little brother's face that Christmas morning. Lots of people tell me they got their first credit card there.
LP vinyl record albums cost $2.99. A friend got two 19" Zenith color TVs there in 1982 and just replaced them last year. Lots of young married couples got their washers, dryers and refrigerators at Lechmere's.
Many Somerville friends remember working there. One guy made $1.88 an hour in the office and others worked on the floor and in the stock room. The cafeteria workers wore pink jumpsuits and one friend was an undercover store detective. One lady worked there for 25 years right up until it closed.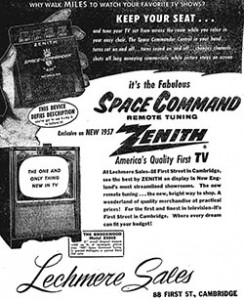 Many couples met while working at Lechmere, some are still together, some aren't. Joey says, "I got my first portable stereo FM radio there in 1969. Most of the radio stations were still on AM. There were some college stations, some classical stations and WBCN! I loved that radio!" A young lady recalls, "I purchased my first wooden kitchen set there … my daughter still uses it … they don't make them like they used to." Lisa says, "I got my ears pierced there when I was 14 or 15." Sandy remembers, "I bought my first cellphone there and I got a stove, a fridge and tons of stuff!"
A former Lechmere customer shares this, "I bought my first big screen TV there. It was a huge piece of black furniture. It was a floor model so I got an even better deal. Honestly, it just died last year! It was difficult to see it go, but it lived a very long and impressive life!" Rick tells us, "I worked my butt off at the Stephen James House to scrape together a nice amount of cash and off to Lechmere for my first top of line Stereo Hi Fi!"
My old Somerville and Kiss 108 pal, comedian Tony V, told me that he bought a lava lamp at Lechmere! Mauzy said, "My first non-hand-me-down bike came from Lechmere. It was painted a metallic teal and had a silver glitter seat. I got it for my 9th birthday and I rode it everywhere!" I think my sister had the same bike! Charlie and I used to take the bus over and test out all the new guitars at Lechmere.
Remember the items coming down the conveyor belt from the stockroom? People remember buying 8-track tapes, their first huge old computers, and Grand Funk Railroad albums. Someone actually met singer Tony Bennett there.
Wikipedia notes, "November 7, 1997 was the last day of business for all locations, and all remaining items, which had been increasingly discounted, were offered at 90% off. Wow! Now that was a true bargain!
Lechmere Sales is in the same category as Somerville Lumber and Bradlees. They were great stores with great prices. They were places where we purchased our memories. Try as they may, there are no stores today with the integrity, personality and charm of those old businesses. You may still have an item in your home that was purchased at Lechmere's, but even if you don't, you surely have a memory that will last a lifetime.