Life in the Ville by Jimmy Del Ponte
Here is another story by my good friend Anthony Accardi Jr. 
(The opinions and views expressed in the commentaries of The Somerville Times belong solely to the authors of those commentaries and do not reflect the views or opinions of The Somerville Times, its staff or publishers)
As far back as I can remember, there has always been an abundance of eating establishments on Winter Hill. Besides the old standard of pizza and sub shops, at one time we had a White Tower Restaurant, a fresh fish market that also served fried seafood, a delicatessen, a coffee shop and even a Brigham's Ice Cream Restaurant, among others. With all of these eating places, other small businesses and a Star Market, Winter Hill was at one time a bustling area with both high foot and vehicular traffic. It was a place where people could do their food shopping, run their errands and grab a quick bite to eat – and all within walking distance of each other.
At the corner of Broadway and McGrath Highway (across from Foss Park), there is a Dunkin' Donuts. At one time on that site stood The White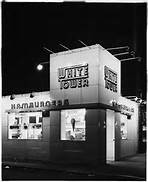 Tower.  From what I've heard, during the 1950s and '60s it was a hangout for the locals from Winter Hill and East Somerville. The White Tower was similar to McDonald's and served burgers, fries, soft drinks and shakes. They were a chain of restaurants that were scattered around the Northeast and Midwest. When the White Tower closed down it became an Arby's Roast Beef. You remember Arby's, don't you? The chain still exists, though I don't believe there are many in this area. They served roast beef sandwiches, fries and shakes. The roast beef, though, was kind of "funky." It did not look like normal roast beef: It had this kind of grayish look with a texture that looked more like ham than roast beef – but it was tasty. After Arby's closed down, the original White Tower building was torn down and the current building was built. First it was an Arthur Treacher's Fish & Chips. I remember the food there was just OK – kind of like going into a restaurant and getting served Mrs. Paul's fish sticks. That chain still exists out on the West Coast, but it never really caught on here. For a short while it became Scooby's Fish & Chips and now (and probably forever), it is a Dunkin' Donuts.
Further up Winter Hill, there was Primo's Pizza. In their beginnings, they only offered pizza and subs. Primo's was actually in three locations on Winter Hill. First it was at the corner of Wheatland Street and Broadway (where the Winter Hill Market is now ). The original building at that corner burnt down around 1970, and Primo's moved further up and to the other side of  Broadway (across from the Star Market). It was in a store front on the first floor of a large multi family house for a number of years – still only serving pizza and subs. When Walnut Drug (at the corner of Sargent Avenue and Broadway) closed down around 1978, Primo's moved there and was there until they closed down a few years ago. It was at this last location that they expanded their menu to include pasta dishes, steak tips and various grilled foods. I never really cared much for their pizza, but their subs were great – in my opinion, the best cheeseburger sub ever. A number of years later, they started offering fried and baked seafood.  Now I have to mention that the aforementioned Walnut Drug  also featured a soda fountain with a counter and stools. They served Ice cream, frappes, ice cream sodas and other various drug store soda-fountain fare.
Next up Broadway is none other than Leone's Subs Shop. Everyone in Somerville knows Leone's. Their illuminated sign with  "SUBS" written vertically with a green neon zig-zag is a Winter Hill landmark. They have been on Broadway since 1955. First they were in a block of buildings that formerly stood where the current Star Market building is located. They moved to their current location when that block was vacated and torn down to make way for the Star Market. Leone's was started by Vic and Louise Leone.  My favorite sub (and for which I think made them famous – but that can be up for debate) is their meatball sub. My son Joe loves their meatball sub, too. Of course anyone you ask will all tell you a different favorite sub of theirs. In the late 1970s, due to competition from Primo's down the street and  Mama Lisa's up the street, they began to serve pizza. My friend Val DePerrio worked there at the time, and we were always in there for lunch (and, of course, to bother Val at work. I remember how guilty they felt about serving pizza, as they were always just a sub shop. Their customers, though, kept telling them not to not feel so bad since the two pizza places that surrounded them did not have a problem with serving subs. Their pizza is thick-crusted Sicilian style  – the only place on the Hill to offer it that way. This differentiated them from their competition, and yes, it tastes great. Vic and Louise have long since retired and now their son Vic Jr. and his brother-in-law Nick Ruccolo run the business.
Further up Broadway is arguably the best pizza in Somerville: "Mama Lisa's Pizzeria," which was originally called "Mama Lisa's Pizza House." Their pizza (in my opinion) is how a perfect pizza should be: thin, crispy crust, light sauce, a good  blend of cheeses and baked until well done. I remember when they opened in 1969. My family ordered there that first Friday night and had to wait an hour for the pizza. Back then, the price of a plain cheese pizza was just  $1.10 (yes, that is one dollar and 10 cents). Extra cheese was an extra dime. A slice of pizza was only 25 cents. To this day, two slices of pizza and a can of tonic will still get you change for a $5 bill. I work in the Back Bay, and two slices of pizza and a drink there will run you about $7-8 and the pizza is awful .  Mama Lisa's is still run by the same owners that opened it in 1969. As you can imagine, it still tastes the same as it did when it first opened.
Next to the Star Market was Brigham's. In addition to their famous ice cream, they also served a full menu of food and the best lime rickey ever. I remember going there with my friend Shawn Sullivan as we both enjoyed lime rickeys. I always got the plain lime rickey and he would get the raspberry lime rickey. Brigham's closed sometime in the late '80s  to early '90s as Star Market needed the space to expand their store. Brigham's was somewhat of a hang out for the older folks on Winter Hill and was sadly missed by them when it closed. We also had a fish store that also served fried seafood. The Winter Hill Fish Market was located about two doors down from Leone's. It was run by two ladies. According to my friend Joe Hickey, they were sisters. They sold fresh fish and in later years offered fried fish, clams and scallops. Gail Harney Stanizzi told me she has very fond memories of going there for seafood with her mom. Also on Winter Hill we had Dawn's Donuts. It was your typical donut/coffee shop.  It was located between Leone's and the old Marshall Hall. The building burnt down sometime in the late '70s to early '80s, and Dawn's moved down Broadway just after the Sunoco Station. It then became John's Donuts serving a full breakfast offering. It then closed and is now a barber shop. Another place worth mentioning on Broadway is Ruth's Deli. It was near the corner of Broadway and Temple Street in the spot where "Insurance by George" now occupies. The place had a horseshoe-shaped counter with the kind of stools that spun around. I only ate there once with my mom. From what I can remember, it was good.
Other places not on Broadway but still considered Winter Hill was The Thurston Spa at the corner of Medford and Thurston streets. Everyone knew it as "Johnnie's." According to Rosemary Desimone Clark, Johnny was none other than John DeMaso. Thurston Spa was famous for its "Johnnie's Special," which was a boloney and cheese sub with whatever you wanted on it. I remember it being only 50 cents back around 1978. The last time I had one around 1998, it was still only a $1.50. Thurston Spa is still open and still offers the Johnnie's Special, although I have no idea how much it currently costs. Sadly, John DeMaso passed away many years ago, yet his former store is still referred to as "Johnnie's."
Down and around the corner from Thurston Spa was the Paddock. Now when we were kids, the Paddock was just an old "shot and a beer" type of bar. Next door to it was a small mom and pop store called "The Marshall Spa". The Paddock served a small selection of food (basically, I think, just pizza and maybe burgers). Sometime in the 1980s, I believe new owners took it over and also the Marshall Spa . They gutted out both places to make one restaurant and kept the name as  "The Paddock." The Paddock was most famous for its pizza, but they also served classic American fare: grilled steak tips, chicken, burgers and a small selection of pasta dishes.  I heard The Paddock closed down a few years ago and is now a restaurant called Sarma that serves Turkish cuisine.
Winter Hill had so many nice places to eat that are now just memories. Just like everything we write about Somerville, we all wish these former eateries could somehow come back, even for one day. Currently Winter Hill is somewhat in the middle of a recession. When the Star Market closed many years ago, it reduced the core traffic that it once attracted to the area. Those who shopped on the Hill also patronized one of the many small businesses there. The area has since been rezoned so that multi-story/mixed-use structures can be built. Seems to me the plan is to go back to residential apartments on the upper floors with small businesses at the street level.  You know the old saying: "What comes around goes around." Winter Hill holds many memories for us to tell stories about. Let's hope the plan to revitalize it can make even more memories going forward. We want the next generation to be able to have their own stories from their recollections of "The Hill."