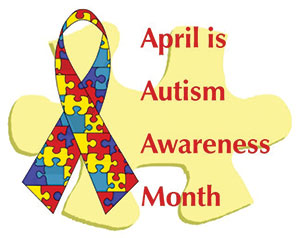 By Jeremy F. van der Heiden
April is National Autism Awareness Month in the United States, and officials and advocacy groups often work hard to get local communities involved in the conversation to create a more widespread understanding of the disorder. The Autism Society has recognized April as the month to raise awareness since the 1970s, and the event has become more popular and well understood in the past several years.
As is the case with many disorders, awareness is viewed as one of the more important and powerful weapons in the fight to help those affected as quickly as possible. The Somerville Public Schools Special Education Advisory Council has helped to coordinate and arrange a discussion at the Kennedy School Library from 6:30 to 7:30 p.m. Monday, April 7, during which the public is welcome to attend and get involved.
The discussion, titled "Managing Time and Energy with Children on the Autism Spectrum," will include guided conversation relating back to home schedules and routines, including leisure time activities, for both children who have been diagnosed with ASD and their families.
Mary DiGuardia, BCBA, assistant director of special education for Somerville Public Schools, proposed the discussion, and she explained that these specific topics are critically important for the average family who has a child with ASD.
"When special education teams responsible for students with autism find that the student is experiencing challenges at home, like following a daily routine or having a method of communicating with their families, a home training service is often recommended," DiGuardia explained. "The home trainer trains the parent in the home about how to create a home schedule and routine that will help the student and the family."
She went on to add that conversations with the home trainers used in Somerville revealed that some of the strategies used in these situations might be useful for many students, which eventually led to the proposal for the discussion at the Kennedy School library.
Special Education Parent Advisory Council Coordinator Debra Higgins, who also helped to organize the event, asserted that all types of families are welcome and encouraged to participate.
"I think this workshop would be great for all," she said. "We could all use some tips with helping our children with study time, organizational skills and free time. I could use the help, too."
Home trainers Kristen Hough and Mackenzie Poulos will be moderating the discussion April 7, as both have specialized skills from working closely with children who have ASD in the Somerville area. Parents who are interested in learning more about ASD, as well as how to best manage their time and that of their children when the disorder is present, will be able to garner a wealth of knowledge from these experienced professionals.
"Many of the challenges that students with autism and their families experience are common to many of those with the disability," DiGuardia added. "We hope that, through offering a discussion, families who are not asking the questions but are having the same problems at home can learn some effective strategies for enriching their child's functioning at home."
She continued to say that caregivers have a plenty of information to share, and one of the objectives of the night is to spread some of the successes specialists have had with students in the home and community. Additionally, DiGuardia noted that parents are urged to bring their questions to the event, and that the hope is to continue the conversation in future "Autism Nights" to be held in Somerville.
According to the U.S. Centers for Disease Control and Prevention, roughly one in every 68 children has been diagnosed with autism spectrum disorder (ASD). Although ASD is more commonly diagnosed in boys than girls, it is reported to occur in all types of racial, ethnic and socioeconomic groups.
Beyond ASD, the CDC estimated that roughly one in every six children in the United States had a developmental disability during a study from 2006 to 2008. However, the average child with ASD was not diagnosed until after his or her fourth birthday, despite the fact that most parents first reported recognizing certain abnormalities when their child was as young as 6 months.
The CDC further estimated that the cost of ASD is significantly higher for families than when the disorder is not prevalent. Average medical expenditures were found to be roughly 4.1 to 6.2 times greater for children with ASD than those without. Families were found to spend an estimated $17,000 more per year for a child who has been diagnosed.
As more information regarding ASD continues to be revealed through extensive research, parents and other family members have myriad support structures to take advantage of today.
Residents who would like to participate in the discussion at the Kennedy School library are welcome to do so. More information on ASD, as well as Autism Awareness Month, can be found through the Autism Society.