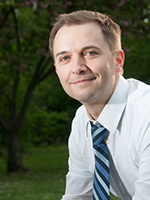 Carl Sciortino, state lawmaker and social justice advocate, has extensive experience advocating on behalf of people living with HIV and those vulnerable to infection.
AIDS Action Committee of Massachusetts announces today that it has named Carl Sciortino its Executive Director. Sciortino, a state representative from the 34th Middlesex District, will resign from elected office Friday, April 4.
"Carl's entire career has been defined by his work on social justice issues and his advocacy on behalf of those infected, affected, and at risk for HIV," said Douglas Spencer, chair of the AIDS Action Board of Directors. "Even with health reform and better access to care, there is still much to do to prevent the spread of HIV and ensure access to care and treatment for all of those who are infected. Carl will lead us into a new era in which we can finally win the battle against HIV and look forward to an AIDS-free generation."
During nine years in office, Sciortino distinguished himself as an effective and reliable proponent of policy changes, as well as allocation of resources, to aid those living with, and vulnerable to, HIV infection. In 2012, he supported passage of a law resulting in expanded HIV testing, and he has consistently sponsored budget amendments seeking increases in funding for HIV outreach, prevention, and education. He has championed social justice issues throughout his career including the right of same-sex couples to marry; banning discrimination against transgender people; expanding access to health care; and increasing resources for anti-poverty programs.
"As a gay man living with HIV, I am honored to lead one of the country's oldest and most effective organizations in the battle against this disease which has raged on over 30 years," said Sciortino. "My goal for AIDS Action in the years ahead is simple: continue the work that has resulted in lowering the rate of new HIV diagnoses in Massachusetts; provide the multitude of services needed to keep those living with HIV/AIDS connected with health care providers; and continue the public conversation about HIV needed to reduce the stigma that is still so closely associated with this disease."
Sciortino will be the first person living with HIV to lead AIDS Action since its founding in 1982. The agency has been led since 2003 by Rebecca Haag. Under Haag's leadership, AIDS Action merged with two smaller organizations in 2010 and 2011, and last year announced a new strategic partnership with Fenway Health.
This new model is one of the first of its kind in the nation and combines Fenway's nationally recognized expertise in HIV care and treatment with AIDS Action's community-based services. This is consistent with the movement in health care reform to provide a medical home model that addresses the comprehensive needs of patients to ensure better health care outcomes and lower health care costs.
"I can think of no one better than Carl to lead AIDS Action in the years to come and to work closely with Fenway Health to maximize our partnership on behalf of those we serve," Haag said. "Carl has been an invaluable legislative and advocacy partner over the last decade. He is uniquely positioned to advance the state and national conversation around treatment and care of those living with chronic conditions, and the need for health care reform to pay for the vital support services necessary to keep treatment costs sustainable."
Sciortino was first elected to office in 2004. In 2011, he was named Legislator of the Year by the National Association of Social Workers. In 2010, the Massachusetts School Psychologists Association named him Legislator of the Year. He is a founding member of the Young Elected Officials Network. Prior to being elected to the state legislature, he worked as a research manager for Fenway Health. He holds a master's degree in public administration from the Kennedy School of Government at Harvard University and a Bachelor of Science degree from Tufts University. He lives in Medford with his husband.
 – AIDS Action
Carl's announcing resignation from House 
Dear Friend,
I am writing to you to share some news. After serving in the legislature for over nine years, I have made the difficult decision to step down from the Massachusetts House of Representatives. I am excited to have accepted a position as the new Executive Director at AIDS Action Committee.
It is impossible to convey how much gratitude I have for having had the opportunity to serve in the State House. I have witnessed amazing generosity, passionate advocacy, and active civic engagement. I have learned so much from constituents about the struggles their families encounter, and have done my very best to live up to the challenge of being your advocate on Beacon Hill. Whether it was passing the Buffer Zone Bill, the Transgender Equal Rights Bill, advocating for the MBTA Green Line Extension, which finally broke ground last year, or working in coalition with many of you to advance progressive values and the needs of working families, I have never stopped learning, and never stopped loving this unique role as a member of the House of Representatives.
I have always felt lucky to have a district and network of supporters that kept me informed, and kept me on my toes. Thank you for entrusting me with this very humbling role for almost a decade!
I begin my new role as Executive Director of AIDS Action Committee on April 7. Having worked on HIV and AIDS issues in the legislature, I am excited for the opportunity to advocate full-time on behalf of those infected, affected, and at risk for HIV. In doing so, I will join a handful of other people living with HIV who are leading AIDS service organizations around the country.
My final day at the State House will be April 4, but my State House office will continue to triage calls and emails of constituent service needs. The office can be reached at (617) 722-2013. Medford and Somerville are also both still fortunate to have great legislative delegations who I've been honored to work with.
Please know I am not going far and I hope our paths continue to cross in the fight for social and economic justice.
With gratitude,
Carl Sciortino State Representative