Life in the Ville by Jimmy Del Ponte
(The opinions and views expressed in the commentaries of The Somerville Times belong solely to the authors of those commentaries and do not reflect the views or opinions of The Somerville Times, its staff or publishers)
Somerville has tons of baby-boomer musicians, as well as a new crop of talent serenading our Seven Hills! There was a garage or cellar band on just about every street in the '60s and '70s.
After the Beatles performed on The Ed Sullivan Show in 1964, all of a sudden almost every kid in America wanted to be a musician. There were a lot of us kids right here in Somerville who got severely bitten by the music bug. If you were lucky enough to get your parents to buy you a guitar, or a set of drums, you would also have to learn how to play. Some kids taught themselves by playing along with records, but the rest had to find a music teacher. You couldn't just say to a guitar teacher, "Turn me into John Lennon!"  You had to start from the beginning with Row Your Boat, Mary had a Little Lamb and Yankee Doodle. It was painful. It was great when we finally learned to play Gloria, House of The Rising Sun and Midnight Hour.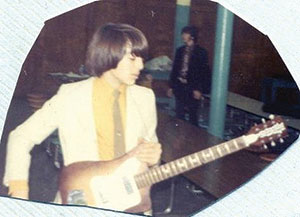 I took lessons from Mr. Charles Cuneo on Bow Street in Medford. I remember trying to read the sheet music as his pipe smoke billowed into a pungent cloud and made my eyes water. My dad used to jokingly complain that the Spanish song Malaguena, which I played in my recital, cost him thousands! Actually, each lesson was only about three bucks. At one time, Dad even took lessons with me, and we'd play together in the backyard. I took piano lessons from Lillian B. Le Couffe on Simpson Avenue. I used to hate going, so I'd bring two or three of my friends with me. She didn't like that.
There were lots of music teachers in Somerville. Henri Butler had a music store and studio in Davis Square. Lots of local kids learned from him. My friend Dennis took clarinet lessons from Mr. Pacifico. He lived at the intersection of Powder House Boulevard and Packard Avenue. I remember a gentleman named Mr. Leto who lots of students learned from. Mr. Kramer gave trumpet lessons at the Foster/Winter Hill School back in the day. He was a great guy. Speaking of schools, Somerville High had the best crop of music teachers you could ask for when I attended. Headed by Constantine Limberakis, Mary Carafotes and Andy Smith, the music department gave the children of Somerville a wealth of musical knowledge. Andy and Mary were the reasons I graduated from high school, since all the music courses gave me the credits I needed. Any music student that was lucky enough to have Andy and Mary were truly blessed. You may also have taken lessons at Pampalone Music on Salem Street in Medford before they mysteriously packed up, closed shop and vanished into thin air.
My friend John recalls: "My instructor for violin was Guido Antonelli. I was in fourth grade and he showed up at the Proctor School once a week for one hour. I was the only student in the school who took any kind of string instrument at the time, so I pretty much had one-to-one instruction from him. He was a nice guy who played for the BSO and the Pops as well."
Louise Scott, who studied at The New England Conservatory of Music, taught voice lessons from her home on Pearson Avenue. Louise has many, many students who have gone on to do wonderful things musically. My family actually lived downstairs from Louise for five years back in the late '50s.
The YMCA also offered guitar lessons way back when. Some of the music teachers (in the school system and apart from) that molded the student musicians of Somerville were  Joe LaPordo, Mrs. Calese, Guido Antonelli, Mrs. White, Mr. Kerouac, Mr. Bizzier (sp?), David Testa, the Martellis, Miss Hughes, Mr. Calari, Mrs. Manganello and the gang at  Tufts Music Studio. At St. Clement's we had the musical nun teachers Sister Mary Magdalene and then Sister Zaverine (alias "Zabo"). They taught piano, singing and a mean flutophone. My family's first piano came from the convent of St Clement's. They said, "You move it, you got it." That piano changed my life. My two sons are also dedicated musicians.
Jimi Hendrix, Eric Clapton, Jeff Beck, Alvin Lee and Jimmy Page taught a lot of aspiring guitarists just by them listening to their albums over and over. Today, Somerville has an inspiring staff of dedicated music teachers headed up by the music superintendent for the city, Rick Saunders. You can always catch a concert in person or on cable TV and see (and hear) just how talented the young musicians of Somerville are. This year's presentation of the musical Annie really showcased the quality of our Somerville students' musical ability. Some of the awesome music teachers in the city are Rosemary Sears, Marcus Santos, Charlie McLaren, Jacob Gabriszeski, Andrew Blickenderfer, Ruth Daigle (retired), Beverley Mosby and Richard Romanoff, just to name a few. Many Someville musicans have gone on to make lucrative livings in the music industry. The teachers and students of Somerville are carrying on a grand tradition of music enrichment that proudly resonates from Prospect Hill to Powder House Park and all points in between.
1 Response » to "Music Ville"