Life in the Ville by Jimmy Del Ponte
(The opinions and views expressed in the commentaries of The Somerville Times belong solely to the authors of those commentaries and do not reflect the views or opinions of The Somerville Times, its staff or publishers)
We often take a trip down memory lane in this column, but this time it's the real Memory Lane. We are taking a look back at the restaurant/bar/meeting spot that used to be where The 99 is now on Middlesex Avenue in Somerville.
The tables were big, and so were the Bloody Marys. As a matter of fact, all the drinks were big. They always had a delicious special, and many people remember the Lane for its awesome prime ribs. "My uncle and aunt lived for that place! They worked at First National Warehouse (very close), so that was their stomping ground! When my cousin and I were old enough, we would join them for a cocktail or two. We loved the place!"
Do you remember the old photos that hung on the walls? Me neither! But some do. Here's a memory: " When the bell rings, it's time for wings! I remember they gave out free chicken wings all night, every night. They would ring a bell when the wings were hot in the chaffing dish." The French onion soup was nothing short of fabulous, too.
Some of my friends were waitresses and some of my friends' parents bartended there also. When I worked at Kiss 108 in the '80s, the sales staff would give us free food vouchers for Memory Lane because they advertised on the station. I heard that one of the former bartenders at Memory Lane now owns his own bar in Somerville. It was a good place for the after-wedding rehearsal party and the after-work gathering. It was a favorite meeting spot for Somerville teachers on a Friday afternoon. A few waitresses from Dapper Dan's used to head over to Memory Lane after their shifts.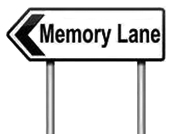 If you worked at Somerville Lumber back in the day, a liquid lunch may have been enjoyed at Memory Lane. No wonder the sales people were always so cheerful! Those piled-high skinny onion rings went great with a nice cold beer. My friend (with a very good memory) took his wife there on their first date 27 years ago. So from that we can assume that Memory Lane was around until at least 1987 or so (some say it was closed by 1993). By the way, the marriage is still going strong.
Others recall watching boxing matches in the back room and having a few cocktails before and after the movies at Assembly Square. A friend tells me that the first time he ever had nachos was at ML. An anonymous contributor says, "I wound up under a table at Memory Lane once, but the funny thing was that I started out at Club 3!" We understand that there was a fire there on March 12, 1992.
We all have memories of those old stomping grounds that we had so much fun at in the old days. Lots of the memories associated with Memory Lane include large-sized margaritas, stingers, Bloody Marys and mudslides, which may have actually dulled the memory. Nevertheless, I thank those who contributed to this story. It's our recollections of the past that keep us in touch with our younger selves, but it's our continued good health and wisdom that allows us to keep creating more memories.