Life in the Ville by Jimmy Del Ponte
(The opinions and views expressed in the commentaries of The Somerville Times belong solely to the authors of those commentaries and  do not reflect the views or opinions of The Somerville Times, its staff or publishers)
There has been a lot of talk about slots coming to the Boston area, but did you know Somerville had slots years ago? I'm not talking about those illegal machines that were in the back rooms of some bars in the Ville back in the day. I'm talking about model slot car racing in the mid-to-late-1960s.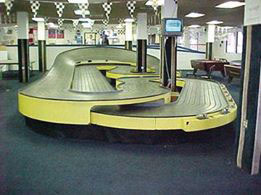 When the telephone company occupied the building where Rite Aid is now, there was a model slot-car racing place across the street that a lot of us remember. It was at the corner of Grove Street and Highland Avenue, where the Dental Arts building is now. Since it was a long time ago, we are not sure of the name. Some think it was called The Raceway. I can tell you that the place was always jammed with kids. You could bring your own cars and throttles, which they also sold, and then it was off to the races! A section of the business had a counter called something like The Pit Stop, where you could buy cars and parts. There were two racecourses. One was long and straight and the other had banked tight curves.
"You had to be careful around the curves or you would wipe out." John Roderick recalls. "There were two large (I'd say 25 feet by 8 feet) figure eight over-under tracks that had eight or 10 lanes each. My brother had a Ford 250GT. It was a clear plastic body that was painted from inside, so it had a nice, smooth exterior, sharp.
"There was a hobby shop on Highland Avenue in the store front that is now Three Figs. We'd usually stop in there to get parts, and look at cars, on the way down there. The slot cars were large, probably 1-25th scale similar to typical Revell or AMT models of the time. There was a counter with display case that sold whole cars, motors (12VDC), parts, etc. I can still see the guy's face that worked there: mid- or late-20s and looked like a Beach Boy to me." They would have occasional contests for fastest and best looking cars.
John also tells us: "I remember it well. It was about 1965-'66. I was 5 or 6 years old, and my brother Mark was 13 or 14. He and his friends from the Hill, mainly the Morse School gang, used to go down there all the time (Carl Ottaviano, Joey Bono – Richie's older brother – Dave O'Brien – Billy's older brother – and others)."
They had races and tournaments at the raceway that filled the place with excited and anxious kids. No one had iPods, cell phones or laptops, just a model racecar and a passion for racing. Cousin Eddie remembers this: "I spent most of my tips from my paper route there every Saturday morning. I had a white Chaparral, a Munster Mobile and a Camaro SS. I won a few races, too; 55 cents for a half hour."
So there you go! Another slice of life from the old days of the Ville. We had toys, not gadgets, and we talked to our friends in person, not on cell phones. Gadgets are fine, as long as we don't forget that the best kind of interaction is face to face, with your friends, doing something fun.