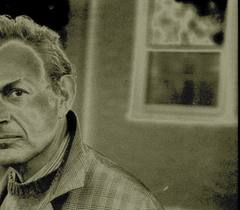 In this picture you see the half face of poet Robert K. Johnson outside the window of the house at 33 Ibbetson Street in Somerville, Mass. This is where Somerville's literary magazine Ibbetson Street was birthed in 1998.
DARKNESS BACKS OFF FROM MY BED
and I slide free from the tangle
of blankets and pull them smooth;
then rid my room of clutter–
clothes strewn on chairs, loose change
scattered on top of a bureau;
and cleanse my palate of any
lingering taste of anger
or regret, so I can savor
this newest day.
HOW THE MIND LOVES
to play a kind
of peek-a-boo with us–
quickly revealing
in the morning
dozens of words
we put in
crossword-puzzle squares
but hiding
in some secret place
till nightfall
eight more words we need
to fill the other squares.
Alternative?
Addition?
Whatever.
THE DAY'S SUNLIGHT
does not now become
brighter, or glow
more softly; the leaves,
noon still, are not
breeze-surprised
to the least stir;
the nest-resting birds
stay hushed behind
their trees' thick green;
yet an unseen feather
quick brushes my skin
and joy
rills through me.
– Robert K.Johnson
*
___________________________________________