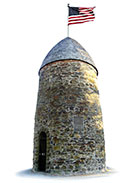 The situation is beginning to look serious. The searching for a solution to the rodent problem situation, that is.
The issue has been discussed and cursory actions taken for quite some time, but a new concerted effort has been taking shape in recent months and a fresh plan of attack has been formulated and will be implemented in the very near future.
It sounds good, as plans go. Stricter enforcement of trash storage and removal practices, rodent control assistance for a number of residents, and rodent fertility management studies are integral parts of the new initiative.
Naturally, talking the talk and walking the walk are two very different things. No plan is worth a grain of salt if it is not carried out as fully intended. Educating residents and business owners about the proper ways to avoid rodent proliferation is a key element to success with the program. Likewise, large-scale enforcement of regulations set forward must be done in order to make progress in the battle against this very troubling state of infestation the city finds itself in.
New York City made a lot of progress in their efforts to push back against the infestation, especially in their subway system. A lot can be learned from their experiences. We should be taking advantage of every shred of useful information that we can lay our hands on.
The crucial ingredient for success, though, seems to be hands on interaction between residents, business owners, and city regulators. In short, let's make sure we have the boots on the ground to get the job done.