Life in the Ville by Jimmy Del Ponte
(The opinions and views expressed in the commentaries of The Somerville Times belong solely to the authors of those commentaries and  do not reflect the views or opinions of The Somerville Times, its staff  or publishers)
Soon the city will be offering Illumination tours for Halloween decorations. What a racket it's turned into. There are now specialized stores that pop up a month before the 31st selling all things ghoulish and gory. Costumes and masks can cost upwards of a hundred bucks.
Back in the day we bought our flimsy Ben Cooper costumes at Woolworths, Bradlees, and Zayres. If the elastic on the thin plastic mask lasted all night you were lucky. If your parents made you wear a winter coat under your costume, that stunk!
We would grab a pillowcase and hit the streets. That was before candy had to be x-rayed. Let's face it, there are a lot more nuts out there who want to hurt people by messing with treats. That's the scariest thing about Halloween these days. Another frightening thing is the way drivers don't watch out for kids on Halloween or any other time for that matter. I actually used my body as a shield one year when a maniac was barreling down my street. For crying out loud slow the hell down, for at least one night!
Do some kids actually change costumes in order to hit the same houses twice or three times? Cool! And one of my biggest pet peeves about Halloween is these tiny "fun size" tidbits of candy. We had the big boys back then! And even worse are people who hand out "healthy treats." Are you kidding me? Where are my cage-free grade As?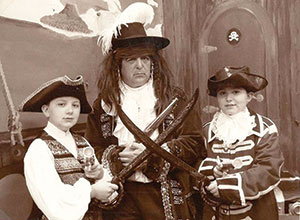 One year I wanted to be Zorro. My parents got me the mask, cape and hat, but would not buy me a sword, because I may poke my eye out. I was the only Zorro with a small plastic Bowie knife. That, along with having to wear brown shoes with my first communion suit may have scarred me for life.
Last year I didn't put up my usual collection of spooky decorations because I was in pain waiting for my hip surgery. This year's excuse is that I don't want to fall off a ladder and hurt my brand new hip.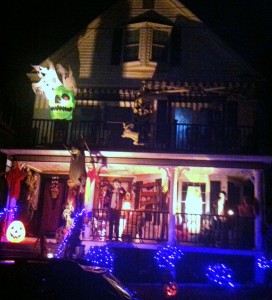 So I discovered a house at 72 Electric Avenue near Teele Square that goes all out with decorations. Fred Pace has been putting up an elaborate Halloween display for about 20 years. The timer sets it all off at 5 p.m., complete with inflatables, spotlights, and creepy music and sound effects. Growing up, Fred's family gathered every Halloween to celebrate his aunt's birthday. Since then, it has been an important family time for him. He adds something new every year and says he has enough decorations to put out completely different displays every year. Fred converted to money and energy saving LED bulbs a while back so his bills are kept pretty reasonable. His flamboyant spectacles have inspired his neighbors to get on board the "fright train." The house is also featured on the annual Christmas Illumination Tour, when Fred turns his house into the North Pole!
At Halloween I personally miss the free doughnuts and cider that The Woodbridge Inn on College Ave. used to hand out.  I may hang out my Jolly Roger pirate flag, and my inflatable spider, but that's it for this year.
Now, be careful out there and have some nice safe fun, you crazy kids!