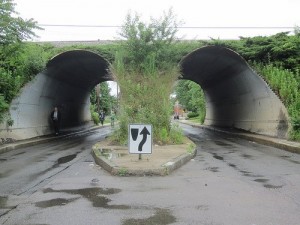 Over, under, around, and through, the 21st Annual Tour de Somerville will be taking off this coming Saturday, October 19.
The Somerville Bicycle Committee's fall bike tour this year features Somerville's many bridges, tunnels, overpasses, and underpasses. They know of at least 40, which is a lot for a city of just 4 square miles. The tour route will cross, or at least pass by, as many of these as possible.
Participants are to meet at 10 a.m. at Seven Hills Park, behind the Holland Street MBTA entrance in Davis Square. They will depart promptly at 10:15 a.m. The ride will be about 13 miles long, mostly flat, and will end by 1 p.m.
Somerville police will help escort the ride. They will have a rest and refreshment stop about halfway through, at Blessing of the Bay Boathouse on Shore Drive, with snacks from Redbones.
The tour will visit the sites of two bike path projects now under construction: the Somerville Community Path extension between Cedar and Lowell Streets, and the Wellington Undercarriage (a new boardwalk under Route 28, linking the Mystic River paths at Assembly Square to Shore Drive).
In case of steady rain, they will postpone the ride to Sunday, October 20, same starting place and time.
A tentative route map is at http://goo.gl/maps/EYBJG. Because the route passes through many construction projects, it is subject to change, even at the last minute.
Their Facebook event is at https://www.facebook.com/events/709560142403270.