HONK! Festival, RadioBDC "Live on the Square" Concert to bring FREE live music to Somerville for long weekend.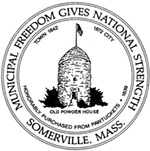 The City of Somerville will play host to a variety of local music acts over Columbus Day Weekend, continuing its ever-expanding annual arts, music, and social events series with the annual HONK! Festival and the first-ever Radio BDC "Live on the Square" Concert in Union Square.
Radio BDC (Boston Dot Com) will celebrate its first anniversary of bringing WiFi Radio to the Boston area through the Boston Globe with a local music festival in Union Square on Sunday, October 13, beginning at noon (live bands begin at 12:30 p.m.). Live bands include The Sheila Divine, American Authors, Christian McNeill & Sea Monsters, Speedy Ortiz, and Rhett Price. The event is sponsored by Budweiser, and will feature a beer garden for concert-goers over 21.
"Radio BDC has been a tremendous supporter of the City of Somerville since its debut last year. We have a great partnership that has allowed us to promote and discuss local events and issues of concern through their station, and now we are proud and excited to host their first birthday celebration here in Somerville with some great local bands," said Mayor Joseph A. Curtatone. "Union Square is one of the hippest, most diverse and up-and-coming business and arts districts in the region, and this festival is another example of the fun and funky atmosphere we love to celebrate in Somerville."
The annual HONK! Festival brings together activist marching bands of all styles of music, from all over the world, to Somerville to celebrate art music, and community, and to promote peace. Since its founding, more than 50 bands have attended the HONK! Festival and it continues to grow in size and scope each year. The 2013 Festival schedule can be found at http://www.honkfest.org/, but the weekend's events in Somerville include workshops, HONK! Music in various Davis Square locations (indoor and outdoor), and a parade beginning in Davis Square at noon and ending in Harvard Square on Sunday, October 13.
"Somerville is second only to New York City in terms of artists per capita, and we have an always creative and diverse arts and music scene that is second to none. Festivals like HONK!, PorchFest, ArtBeat and others continue to make us an arts destination year after year, and I always look forward to donning some glitter and getting out there with bands from all over the world for the HONK! Parade," said Mayor Curtatone. "Columbus Day weekend will truly be a celebration of diversity and music here in Somerville."
"HONK! has become a much anticipated tradition in Somerville, and I am so excited to share in the festivities again this year," said Ward 6 Alderman Rebekah Gewirtz. "We have so many wonderful and energetic celebrations in Somerville, but HONK! really celebrates what we are about as a community: diversity, happiness, culture and fun."
For more information on these and other upcoming city celebrations, visit www.somervillema.gov/calendar.