Life in the Ville by Jimmy Del Ponte
(The opinions and views expressed in the commentaries of The Somerville Times belong solely to the authors of those commentaries and  do not reflect the views or opinions of The Somerville Times, its staff  or publishers)
Here is another story by my fellow Somerville pal Anthony Accardi. My uncles used to work at a bakery in Somerville back in the day called Mitchells. I figured since last week I discussed spaghetti sauce, why not have a little bread this week to go with it?
Those who know me know that I am a bread snob. Sorry, but I can't help it. My mother's side of the family were all in the baking business. Her grandfather (my great grandfather) owned Nicholosi's Baking Company in the old West End of Boston. Her dad (my grandfather) baked bread for Nicholosi's and also drove bread trucks for both Sunbeam Bread in Dorchester and also for Cassaro's Bread in Medford. My grandmother worked the counter at the old Garden Court Bakery on Somerville Ave (a few doors down from the skating rink). Needless to say we always had fresh bread. Each day more bread arrived. What was yesterday's bread eventually got ground up into breadcrumbs and nothing got wasted.
Admit it, we all love good bread. For us old world Italians and Europeans, it has to be on the table at every meal. At one time Somerville had so many bakeries. Some specialized in bread and for others pastry was what made them famous. Of course there were some bakeries that were known for great bread and pastry.
From my recollection, most of the bakeries in Somerville specialized in either Italian, Irish, German or Portuguese baked products. These bakeries made a huge variety of bread like the Scala Bread, which made the best toast, the Vienna bread (better known as the Bostone), the "round" and "ring" breads all of which were great for sandwiches.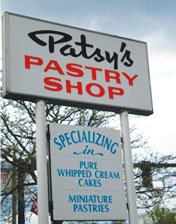 In East Somerville there is Patsy's Pastries, which is still open. Patsy's is one of those bakeries that has both great bread and pastry. I would have to say that their Scala bread is one of my favorites. In Winter Hill we had Orlando's Bakery, which was right next to Tony's Barber Shop (where a beauty salon now exists). They only sold bread and it was awesome. Orlando's then became Cucchiello's Bakery and they too sold only bread. It then became the Winter Hill Bakery, which still exists today but now resides in the space further up Broadway where Pal Joey's Lounge once was. Now, the interesting thing about the Winter Bakery is that it is Portuguese owned, but they have one of the best Italian Scala breads that I've ever had. They also specialize in Portuguese rolls and, of course, Portuguese sweet bread.
In Magoun Square there was Cara Donna's Bakery on Medford Street. At one time probably the best pastry in Somerville. They did sell a small selection of bread, but pastry was their  claim to fame. Sadly, Cara Donna's is gone, although I think there is a Brazilian themed bakery there now. In Ball Square, you had Lyndells and that too is still there at the corner of Willow Ave. and Broadway. They are the oldest bakery in Somerville and have been there for over 100 years. They now promote themselves as an Italian bakery. However, from my recollection as a kid, they were mostly a bakery that specialized in Irish/German baked goods. When my mom would take me to see Dr. Sorrell (my eye doctor), we would always stop at Lyndell's afterward for a hermit (does anyone remember those and does anyone still make Hermits)?
In Davis Square there was only one bakery and that was La Contessa's. Sadly, it no longer exists. They were mostly a pastry shop but did have a small selection of bread. My buddy Louie Belmonte's grandmother (Anna Vaini) worked the counter there and when we would stop in to see her, she would always sneak us both a few Italian cookies.
Do you know that section of Route 1 in Norwood called The Auto Mile? Here in Somerville, we could have called Somerville Ave. The Bread Mile. At the beginning of Somerville Ave. near McGrath Highway there was Roma Bakery (which may still exist). Roma was mostly a bread bakery and boy did they have good bread. Probably the best seeded bulkie rolls in the city. A little further down and across from the Fire Station, you had White Rose Bakery. I tend to remember this place as mostly a wholesale bakery and they really didn't have a retail storefront. I think there was some type of "back door" that one could use to buy hot fresh bread at wholesale prices. Further down Somerville Ave. there was the Garden Court bakery on the left. They specialized in both bread and pastry. As I mentioned earlier, my grandmother worked behind the counter there and we always had an abundance of their bread and cookies in our house. Lastly, and diagonally across the street from The Garden Court Bakery, is LaRonga Bakery. When I was a kid, they sold both pastry and bread. Over the years, though, I think most of their business became wholesale bread, though I do think they still keep a retail storefront. After skating at the Somerville Ave. Rink, we would go over to LaRonga and buy a bulkie roll for our walk up Central Street and back to Winter Hill.
So what happened to some of these great bakeries? There are probably several reasons that so many are now gone. I think many of the old timers that started these bakeries retired and then sadly passed on. Their families chose not to continue their baking business. Those that did either could not keep the quality the same or just didn't have the same drive and work ethic. They did not want to work 7 days a week with little or no vacation. Nor did they want to get up at 2 a.m. and work in sometimes 130 degree conditions. Also, many supermarkets began "in-store" bakeries. The philosophy of "one stop shopping" and "convenience" became the norm. With both parents working, life was too busy to make a special stop to the bakery. This certainly put many of the old time bakeries out of business.
Once my generation is gone, the next generation will have no idea what a real good loaf of bread tastes like. They will enjoy the frozen dough that the supermarket baker puts into an oven that then comes out crispy on the outside and raw dough on the inside. The bread will be warm when they pick it up off the shelf, it will smell and taste good and to them that will be considered good bread. That generation will probably not know any better. So the next time you are in the supermarket and pick up that hot French bread, put it down and make a special stop to the local bakery. The bread from there was made that morning, it was made on the premises and made with lots of love and hard work. You will not regret it.