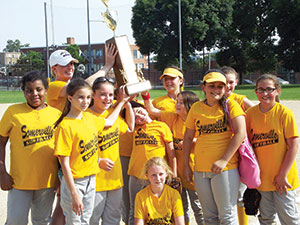 Dear George Landers, Mayor Curtatone,
When we travel the streets of Somerville, take a stroll on the sidewalk, or play in the public parks we are benefiting from services provided by the City of Somerville's Public Works Department.  On behalf of nearly 100 youth softball families, 10 organization board members and coaches, I would like to take this opportunity to thank all of the City employees who work tirelessly throughout the year to make playing softball in Somerville possible.  All of you help make the City of Somerville the best run city in Massachusetts and we thank you for all of your hard work. Our thanks is one that is well-deserved.
Last evenings End of Season Cookout and Celebration included special guests from the Tufts Softball 2013 NCAA National Champions and nearly 100 SYSO family and friends.  It goes without saying that the event could not have been as successful without such dedicated and engaging city employees working on behalf of our community.  We look forward to working with these excellent people in the future.  We would like to single out several people in particular for their above and beyond contributions to last night's event; Mark Ardilino, Neil O'Regan, Thomas Marshall and Frank Santangelo.
The future is bright for youth softball in Somerville. Your determined hard work to keep the "game-on" is appreciated by many.
Three cheers for City of Somerville DPW! Hip, hip, hooray!
Kind regards,
Bob Schofield
Somerville Youth Softball Organization, President