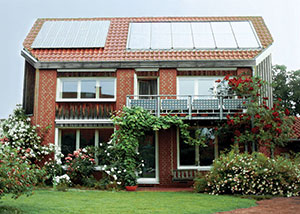 By Harry Kane
There may be a city tax associated with the installation of solar panels on homes in Somerville that could be preventing some residents from going green, according to Ward 6 Alderman Rebekah L. Gewirtz.
"I haven't had a chance to have a conversation with the appropriate people in City Hall," she said during the Sept. 12 Alderman meeting.
Alderman Gewirtz doesn't know whether the solar panel tax is needed because the house has to be inspected, or whether there are other "city services" that the solar paneled houses may require.
"The overall benefit to the city of having more people install solar panels should offset any cost for us to do an inspection," she said.
Alderman Gewirtz believes the City of Somerville should be incentivizing the addition of solar panels. She says the panels are practical on the sloped roofs that so many Somerville homes have.
"I've had solar panels on my house for quite a while now," said Alderman at Large John M. Connolly. "I've never been aware of any kind of a tax."
Alderman Connolly says there is a routine plumbing inspection that is required for safety reasons that could be responsible for the fees or taxes in question.
"I think it's a great thing to incentivize," Alderman Connolly said. "Perhaps an abatement should be considered for those people willing to put their time and expense in."
The item was approved and referred to the Committee on Environment, and will be taken up during the Sept. 25 meeting.