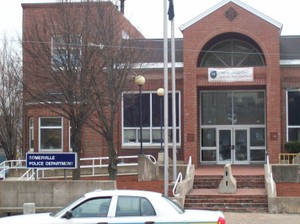 Somerville Police Detectives, with the assistance of the NEMLEC (North Eastern Massachusetts Law Enforcement Council) Swat Team, arrested Alex Gomes at his home located at 298 McGrath Highway in Somerville early this morning.
Gomes is one of several persons targeted by the Somerville Police Department for his involvement in numerous housebreaks in Somerville during the past six months. He is well known to police officials and his history prompted the deployment of SWAT to bring him into custody.
Gomes has been charged with two counts of  attempting to commit a crime, breaking and entering into a building, one count of larceny from a building, and two counts of possession of burglarious tools, stemming from incidents on Porter and Conwell Streets in Somerville on Friday evening, August 23, 2013.
According to Somerville Police Chief Thomas Pasquarello, "Breaking into someone's home is a serious offense, one that will not be taken lightly by the police."  The Somerville Police Department is committed to devoting whatever resources necessary to investigate such crimes in order to arrest and prosecute those who are responsible for these crimes."
The Somerville Police Department suggests that the community check the department's website for tips on protecting your home and property. Any questions please contact the Somerville Police Department at (617) 625-1600.