Upgraded play surface, lighting, and more to be installed starting this week; Park closed for 6-8 weeks during improvements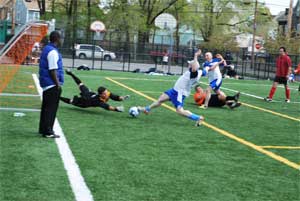 Improvements to play and park features as well as underground drainage began today at the Glen Park playground at the Capuano Early Childhood Center in East Somerville, announced Mayor Joseph A. Curtatone.
Funded by a $350,000 federal Community Development Block Grant, the visible park improvements include a new poured-in-place rubber play surface and subsurface, new light fixtures near the drop-off area, and a new metal picket fence gate to replace the chain-link fence gate. Additional shade trees will also be planted, and existing play equipment will be repaired and painted with fresh new colors. Meanwhile, below ground, drainage system improvements will be made to reduce puddling on the playground.
"Providing our children with appealing, safe and fun parks isn't a luxury, it's an essential part of making sure our kids are healthy, active and developing strong minds," said Mayor Curtatone. "We've built or renovated more than 25 parks and green spaces over the past seven years, because we want to invite residents of all ages out of their homes and into our city's valued open spaces. Glen Park will be both a safer and more welcoming play area for children and a communal space where parents and neighbors can meet one another, relax and strengthen neighborhood bonds."
The Glen Park improvements are among a string of recent and upcoming park projects in East Somerville. In July, the new Chuckie Harris Park opened on Cross Street East. Built on a formerly paved lot, this innovative park features a giant slide, a water spray, community garden plots, café tables, swings, a toddler play area, and more than 70 new trees in a completely ADA accessible space. The new East Somerville Community School, which opens Sept. 4, has three new outdoor play areas on site including fields and state-of-the-art play equipment. The new Baxter Waterfront Park in Assembly Square slated to open in September offers a new dock and six acres of waterfront green space and pathways crowned by a central amphitheater for outdoor performances, as well as a sculpture to be installed later this year designed by Somerville youth artists through a new partnership with Artists for Humanity. Finally, the first public meeting to discuss the creation of Symphony Park on a vacant house lot at the corner of Florence and Pearl Streets was held in July. The city is seeking grants to design and build the park and, if successful, construction should begin in summer 2014.
"Ward 1 is home to more children than any other part of the city, and it's so important that our kids—and all of us for that matter— have welcoming and safe places to play in our neighborhoods," said Ward 1 Alderman Maureen Bastardi. "I'm really looking forward to the reopening of Glen Park and to working with the community and city planners to start discussing designs for Symphony Park."
During construction, the playground will be closed to the public. James McCarthy Field at Capuano will remain open, but access at times may be available only from Franklin Street. Weather permitting, Glen Park is expected to reopen by mid-October.
For more information on the Glen Park improvements, please contact OSPCD at 617-625-6600 ext 2500.