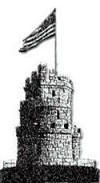 A petition for a ballot question aimed at repealing the casino law that has led the city of Everett to approve plans for a casino at the site of the former Monsanto factory off Rt. 99 was filed last week.
Mayor Curtatone has been actively speaking out against the casino development for some time, and is now joining in supporting the coalition that is behind the move to have the law repealed. He adds his voice to a number of others' whose concern over the proposed Everett development has grown considerably over the past weeks and months.
The mayor has oft expressed his dissatisfaction with the events that have taken place, leaving neighboring communities all but irrelevant in the decision making process regarding Everett's move to bring in the casino.
It cannot be argued that the proposed casino would have little or no impact on the economies of nearby cities such as Somerville and Medford. There are many up- and downsides to be considered, and it only seems fair that all concerned should have a say in the matter.
The ballot question is a way to make everyone in the Commonwealth more aware of the ramifications entailed in such a venture, and whether it makes its way to the polls will be a measure of how important the people of the region think the issue is.
Turnabout is fair play, as the saying goes. If one side becomes intractable, then the other side must consider its options and go with them as need be.
Let us watch and see how the voters react to this.