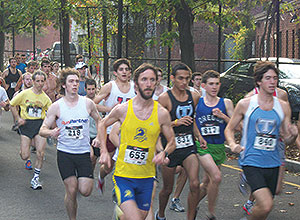 The Somerville Homeless Coalition's annual fundraiser road race is set to take place on October 5, beginning at 9 a.m. in Davis Square.
Voted one of New England's top 80 races in 2010 by New England Runner magazine, the race is a highly anticipated event drawing runners from near and far to participate in the challenge.
All proceeds from the race benefit the Somerville Homeless Coalition, an innovative non-profit organization which has the mission to provide homeless and near homeless individuals and families with individualized supportive services and tailored housing solutions with a goal of obtaining and maintaining affordable housing.
• The first 500 registered runners will get a free t-shirt.
• A great brunch is included, provided by local restaurants.
• Raise $100 and your registration is free; raise $250 and you will get a free baseball cap.
• Trophies will be awarded to the top overall male and female finishers, and to the top team.
• Prizes will be awarded to the top male and female in each category; medals will be given to the top three finishers.
• The Steve Burton award will be given to the race participant who raises the most money.
For more information about the event and to register to participate go to www.somervillehomelesscoalition.org.
Be a part of this time-honored tradition and help homeless families and individuals to achieve a better standard of living.