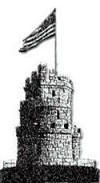 In between the rainstorms, heat waves, and other general mayhem doled out by Mother Nature these days, we can enjoy that particularly sweet spot of the year known as summer.
Vacations, outings, visits to and from friends and family, all play a part in structuring the season's schedule of things to do. Another sublimely satisfying way to pass leisure time is by attending outdoor sports events, and one doesn't have to drop a week's pay at Fenway or Gillette in order to let the family take in some topnotch action on the field.
Our own Somerville Alibrandis baseball club has proven itself year after year as being a first-class team, always offering spectators a thrilling experience at a fraction of the expense of a trip to any one of its major league counterparts. Current leaders of the Ted Williams division of the Yawkee Baseball League, attending one of their games is a sure fire way to enjoy the sport the way it should be enjoyed: up close and personal. Find their schedule at http://yawkeybaseball.com.
Similarly, consider enjoying the free-spirited energy of Little League play in the city. These youngsters, some of whom may become our sports heroes of the future, deserve our attention and support. Organized sports can play a vital role in shaping the values and sense of accomplishment for these kids, so we really need to get out there for them and show that we back them up all the way. Check out their schedule of events at http://www.somervillelittleleague.org.
Also, Somerville Youth Softball Organization is getting kids of all ages involved in the sport and getting out to watch some of these games can be very rewarding, for both participants and spectators alike. More information about their activities can be found at http://www.eteamz.com/somervilleyouthsoftballorganization.
Additionally, Somerville Recreation's affiliated programs provide a wide range of activities in various sporting events such as soccer, boxing, and hockey. Look for info at http://www.somervillerec.com/info/affiliated.
Yes, it's true that small town pleasures can still be enjoyed in this fast-paced modern world we find ourselves in today. So slow down, take a look at what is good and noteworthy in your own backyard. We think you'll be pleasantly surprised.