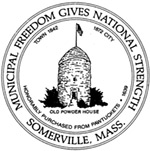 Testing to be done in West Somerville. Smoke is nontoxic, non-staining and creates no fire hazard. Individuals in testing areas with respiratory problems and who are immobile should call (978)-416-8000.
Smoke and dye testing of portions of Somerville's sewer lines to identify connections between the drain and sanitary sewer systems will be conducted by city contractors Wright-Pierce beginning Monday, July 29, and continuing at various times through Friday, August 9. Residents will be notified via phone and email alerts prior to testing in your neighborhood.
Locations and corresponding dates of the testing are:
Monday, July 29, through Friday, August 2: Broadway area from Alewife Brook to Teele Square, and High St. area near Dilboy Field to Alewife Brook.
Monday, August 5 through Friday, August 9: Pearson Road, Tufts University, Boston Ave. and Broadway area.
Dye used will exit the system via an outfall and is nontoxic. The smoke you may see coming from the vent stacks and roof leaders on houses or from sewer grates, manholes, or other openings in the ground is nontoxic, non-staining, has no odor, is white to gray in color, and creates no fire hazard. The smoke should not enter your home unless you have defective plumbing or dried up drain pipes.
It is advisable for the home or business owner to pour a gallon of water into each floor drain or basement sink prior to the start of testing on Monday, July 29. If smoke enters your home or business, this is a good indicator that sewer gases may also be entering your home or business. You should notify our work crews in this event. If you are not home and discover smoke when you return, please call Laurie Perkins at Wright-Pierce at (978) 416-8000.
If there is any individual in your home or business who has respiratory problems and is immobile, please contact Laurie Perkins immediately at (978) 416-8000.
This work is being managed by Rob King, City of Somerville DPW (617) 625-6600.